Scenic USA - Montana
Scenic USA offers a collection of select photographs from a wide variety of attractions, points of interest, historic sites, state parks and
national parks found throughout the United States. Each photo feature is coupled with a brief explanation.
For further detailed information, links to other related sites are provided.
Swiftcurrent Lake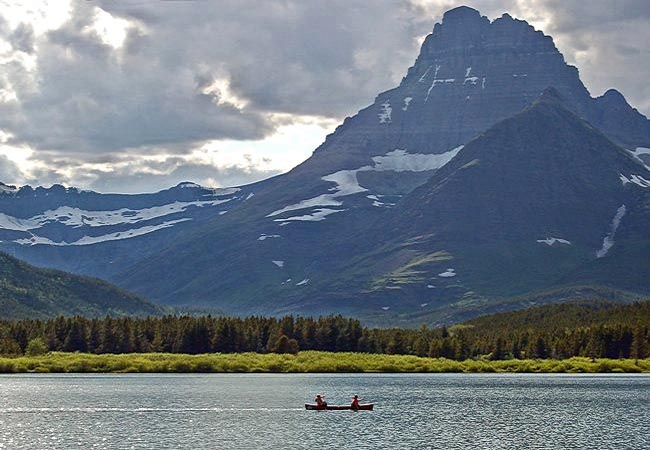 It's easy to see the why this spectacular Glacier National Park setting was chosen for the location of Many Glacier Lodge. The Swiftcurrent Lake, fed with glacial melt, is set against a dramatic granite backdrop. The Garden Wall Ridge is part of Montana's Lewis Range, topped by Mount Gould. Foot-trails follow around the lakeshore to the Grinnell Glacier trailhead and one of the most scenic areas in the park. Lake boats tours can save park visitors time and energy, as the trail extends for six miles, with an elevation gain of 1,600 feet.
The Many Glacier Valley site was selected by the Great Northern Railroad president, Louis Hill. The hotel was completed in 1915, constructed of local materials and built along the main line of the Burlington Northern Railroad. Bridge builders and craftsmen assembled the huge log structure and finished it with the most intricate details. The 240 room Swiss style chalet was Montana's largest hotel for years, and remained a popular resort destination for the Great Northern Railroad.
Copyright ©2008 Benjamin Prepelka
All Rights Reserved