Scenic USA - New Jersey
Each day Scenic USA presents a new and exciting photo feature from somewhere in the United States. Chosen from a wide variety
of historic sites, city scenes, backcountry byways, points of interest and America's best parklands, this site offers the viewer hundreds
of unique travel destinations and vacation ideas. Each feature is coupled with a brief explanation. For further detailed information, links
to other related sites are provided, but are never to be considered an endorsement.
Sandy Hook Lighthouse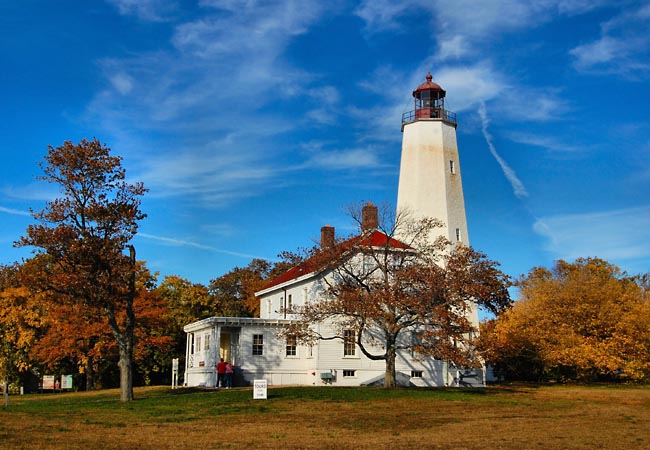 One of New Jersey's popular beach destinations is a seven mile stretch of sand called Sandy Hook.
This Jersey Shore peninsula covers 1600 acres of prime ocean real estate and beautiful beaches, summoning anglers, sun-worshipers and bird watchers.
Topping off the northern tip of this vacationer's paradise is the site of Fort Hancock and America's oldest lighthouse. Overlooking the approach to New York Harbor, Fort Hancock played an important role in the defense of the New York City area. Appearing as a ghost town today, an eerie line of silent army base homes surround the Sandy Hook Light Station. The base was decommissioned in 1974 and turned over to the National Park Service.
Originally called the New York Lighthouse,
the Sandy Hook beacon warned mariners of a series of treacherous shoals around the peninsula as they navigated toward the harbor entrance. Built in 1764 before the Revolutionary War, the rubble stone lighthouse tower was seven feet thick at the base and rose 88 feet above the water. The copper topped lantern room was later refitted with a third order Fresnel lens. The octagonal lighthouse and grounds are open daily, with volunteers from the New Jersey Lighthouse Society giving tours of the keeper's quarters and lighthouse tower. Some of the best times to visit a quiet Sandy Hook are after Labor Day when the summer crowds have disappeared.
Copyright © Benjamin Prepelka
All Rights Reserved