Scenic USA - New Hampshire
Scenic USA offers a collection of select photographs from a wide variety of attractions, points of interest, historic sites, state parks and
national parks found throughout the United States. Each photo feature is coupled with a brief explanation.
For further detailed information, links to other related sites are provided.
Mount Willey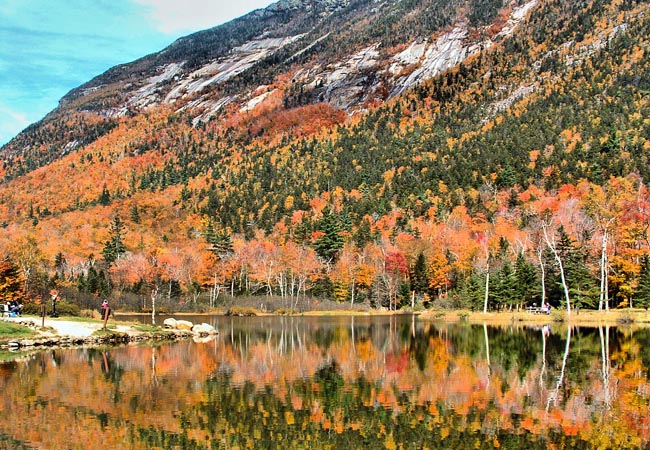 As the area around Crawford Notch became more popular in the early 1800s, the demand for lodging also increased. Long before a railroad connected Portland to the Notch, the area welcomed Samuel Willey, with his wife and five children. The family constructed a cluster of small buildings, including an inn, along the rugged road through the Notch. Here on the western wall of the Notch, the Willey's little slice of heaven quickly turned ugly. The family was terrified when the swollen Saco River ripped through the river valley. Once again the following year, on the night of August 28, 1826, one of the most intense rainstorms hit the White Mountains. The Saco River quickly rose well over its banks, sweeping away trees, livestock and farm buildings. The Willey house remained undamaged, but unfortunately the fleeing family was caught in a seething river and crushed in the wreckage. Three of the Willey children were never found. Mount Willey, part of Crawford Notch State Park, was named in honor of the Willey family.
Today, alongside U.S. Route 302, a small picnic area lies at the foot of Mount Willey, seen here on a crisp October day. It's easy to see why New Hampshire remains as one of the perennial favorites when it comes to autumn foliage and fall festivals.
Copyright ©2010 Benjamin Prepelka
All Rights Reserved