Scenic USA - Pennsylvania
Scenic USA offers a collection of select photographs from a wide variety of attractions, points of interest, historic sites, state parks and
national parks found throughout the United States. Each photo feature is coupled with a brief explanation.
For further detailed information, links to other related sites are provided.
Loyalsock Creek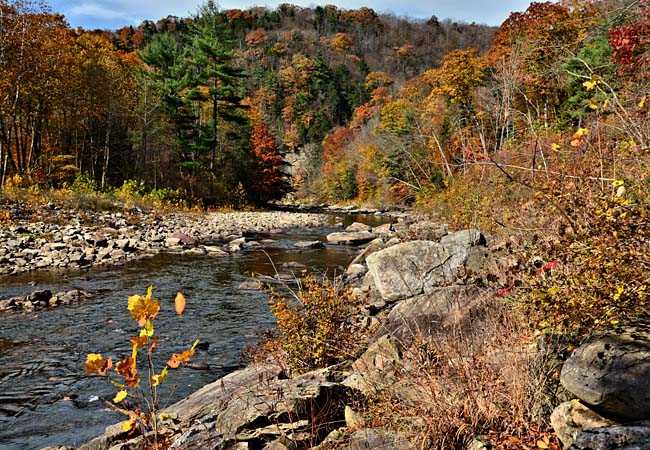 The Loyalsock Creek, located in Pennsylvania state forestland, is a very popular trout fishing location. The 60 mile creek, a slight misnomer, begins in Wyoming County, flows through Sullivan and Lycoming counties in the central part of the state. Deep pools, fast flowing water and late spring temperatures are the key ingredients for an excellent fishing experience. The Upper Loyalstock, above Forksville, is known for its fast moving currents and bolder strewn river bed. A mile and a half section of the river in Lycoming County is designated as a Delayed Harvest Artificial Lures Only section. Here, mayflies and caddis sometimes cover the Loyalstock. Mimicking these natural baits increase chances of success.
Unfortunately, Pennsylvania receives more acid rain than any other section of the country. Acidic water adds additional stress to plants and animals. The river bed, primarily made up of sandstone, limestone and shale, has little effect neutralizing the acid waters. This long term threat calls in question the state's expenses of yearly restocking efforts.
Copyright ©2008 Benjamin Prepelka
All Rights Reserved