Scenic USA - Tennessee

Abrams Falls
---
---
Photo by Ron McEwan
Inset photos courtesy Kent Cave - NPS
   Seen as one of the most diverse parks in the world's temperate zone and recognized by the International Biosphere Reserve, the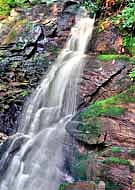 Great Smoky Mountain National Park is unmatched in wildlife and plant diversity. Once the land of the proud Cherokee Nation, this preserve was known as the land of the blue smoke. One of the first parks established from private lands, the park's 50,000 acres straddles the mountainous region at the Tennessee and North Carolina border.
   Cades Cove is one of the most popular sections of the park and during peak season weekend stop-and-go traffic looks like a throughway at rush hour. But in spite of congestion, this section of the park remains one of the park's outstanding locations. Its collection of rustic architecture, vernacular buildings, the valley wildlife (including black bears) and its colorful fall foliage in the cove hardwood forest underscore the allure of Cades Cove.
   The Great Smoky Mountains park is also noted for sparkling waterfalls. With over 2000 miles of mountain streams, waterfall hikes are another draw to this famous parkland.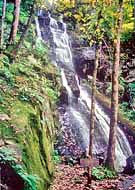 Every year over 200,000 visitors hike to the park's tallest waterfalls and ones that are the easiest to reach. From the Cades Cove Loop Road, near Stop No. 10, Abrams Falls Road leads out to the trail and this view of Abrams Falls. Taking this two and a half mile trail to the falls, visitors are guided through another world with all the sights, sounds, smells and feel of nature. Far enough from the bustle on the Cades Cove Loop, the trail follows along Abrams Creek, through a canopy of mature trees, over footbridges and along footpaths lined with rhododendron and wild flowers. Abundant rainfall in the park sends a large volume of water over falls, creating a thunderous roar. Hen Wallow Falls, Grotto Falls, Indian Creek Falls, Juney Whank Falls and Laurel Falls are among some of the most visited waterfall sites. Ramsey Cascades is the tallest waterfall in the park and one of the most spectacular.

    Area Map
---
---
Copyright © 2009-15 Benjamin Prepelka
All Rights Reserved