Scenic USA - California
Scenic USA offers a collection of select photographs from a wide variety of attractions, points of interest, historic sites, state and
national parks found throughout the United States. Each photo feature is coupled with a brief explanation.
For further detailed information, links to other related sites are provided.
China Cove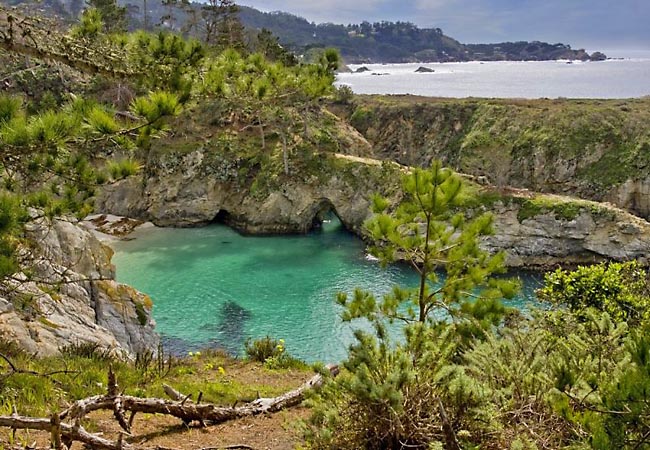 It will come as no surprise that Point Lobos State Preserve, parked along California's coast near Carmel, was greatly affected by the area's fault line. The reserve's geology dates back 100 million years and is dominated by Santa Lucia Granidiorite. This once molten mass was located near the tip of Baja. Tectonic forces tore away the huge block, and riding on the Earth's plate as a conveyor belt, the mass of granidiorite was transported over 1,200 miles up the coast.
The Point Lobos rock layers are stacked like a Dagwood sandwich. The Carmelo formation deposits (60 million years old) hardened into sandstone and rest on top of the granidiorite. The top layers of this sandwich consist of sedimentary rock, made up of clay marine deposits, silt and gravel.
Understanding plate tectonics may require additional study, but the beauty of Point Lobos can be enjoyed immediately. This view of China Cove, with its clear turquoise waters, can be seen from the Bird Island Trail. Just under a mile, the foot path leads over coastal scrub and woods to the sandy beaches of China Cove and Gibson Beach. This inviting scene of China Cove's sparkling water doesn't prepare anxious swimmers for its icy chill. Surrounded by steep cliffs, this swimming hole is just one of the exceptional sights along the Pacific Coast Highway.
Copyright ©2006-2009 Benjamin Prepelka
All Rights Reserved