Scenic USA - Iowa
Scenic USA offers a collection of select photographs from a wide variety of attractions, points of interest, historic sites, state and
national parks found throughout the United States. Each photo feature is coupled with a brief explanation.
For further detailed information, links to other related sites are provided.
Cedar River
Devastating flooding of Cedar Rapids and Iowa City remained in the news throughout the month of June this year (2008), while the Cedar River topped its banks. Some of the worst disasters in America's Midwest dealt with flooding; and in 1993, record costs, associated with water damage, reached 15 billion dollars.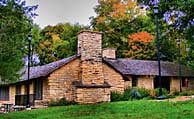 Even without flooding, warning signs of the dangerous currents are posted along the Cedar River . This view shows a seemingly smooth running Cedar River as it passes through Palisades-Kepler State Park. After witnessing the park's bold limestone cliffs, it's easy to guess why the palisades names. The name Kepler was added with his gift of 700 acres of additional park land in 1928.
This popular family oriented park features modem camping facilities, six miles of trails, ever present wildlife and excellent fishing. The Linn County park is found just to the east of Cedar Rapids, Iowa.
Copyright ©2008 Benjamin Prepelka
All Rights Reserved