Scenic USA - Florida
Scenic USA offers a collection of select photographs from a wide variety of attractions, points of interest, historic sites, state and
national parks found throughout the United States. Each photo feature is coupled with a brief explanation.
For further detailed information, links to other related sites are provided.
Fort Myers Beach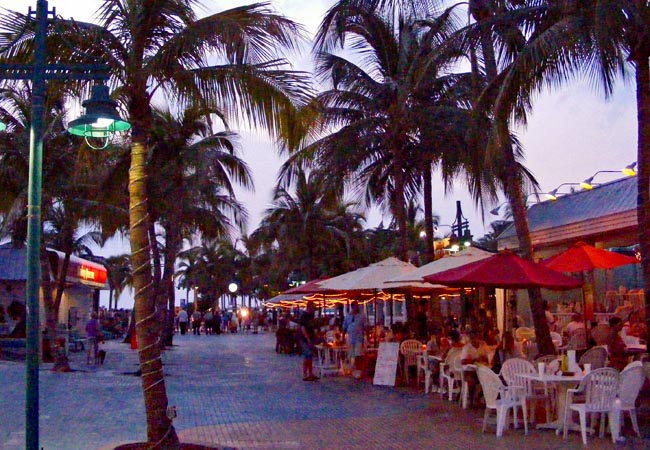 As evening sets in, the Fort Myers Beach bustle continues. During the day, the beach scene attracts sunbathers, family beachgoers and an entertaining group of shorebirds. Once the sun sets, the crowd is drawn by the delicious smells that float from a sidewalk cafe. Live entertainment features a one-man-show, interacting with an fun-loving crowd.
The beach town is just a hop from Fort Myers. The first step in the hop is San Carlos Island. Once part of the mainland, the key was cut off by storm erosion and a churning hurricane. Carlos was the chief of the Caloosa Natives, killed off by Spanish explorer, Menendez, long ago. Along with the names, a shell mound at the end of Connecticut Street is the only trace of earlier populations. A freshly built causeway bridges Matanzas Pass and drops over to Estero Island and Fort Myers Beach. Estero Island, a lengthy barrier island, is the longest key in a successive chain, followed by Black Island and Big Hickory, that ends at Bonita Beach and then rejoins the mainland.
Copyright ©2007 Benjamin Prepelka
All Rights Reserved