Scenic USA - Illinois
Scenic USA offers a collection of select photographs from a wide variety of attractions, points of interest, historic sites, state and
national parks found throughout the United States. Each photo feature is coupled with a brief explanation.
For further detailed information, links to other related sites are provided.
Chicago Skyline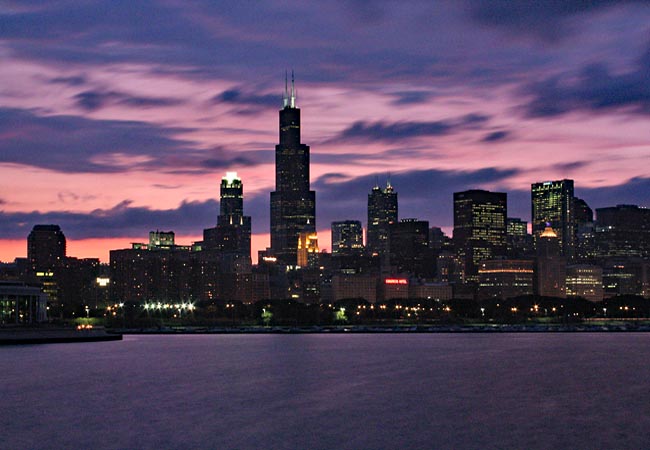 A schoolchild's first history lesson on the "windy city" recounts the story of Mrs. O'Leary's cow and the Great Chicago Fire of 1871. Between 1850 and 1870, Chicago's growth was phenomenal and city population grew from 3,000 to 300,000. This unregulated growth lead to extreme problems with city services, forcing many buildings to be raised as much as five feet.
After the firestorm that leveled 61,000 buildings and four square miles, rebuilding took on a consolidated method. The modern skyscraper utilized fireproofing, an internal steel framework and electric or steam powered elevators.
The Chicago skyline, pictured here, shows off a few exceptional skyscrapers; Sears Tower, Two Prudential Plaza, Aon Center and the John Hancock Building. This eye-catching view looks across the edge of Lake Michigan from the Adler Planetarium.
Copyright ©2006 Benjamin Prepelka
All Rights Reserved