Scenic USA - Maine
Each day Scenic USA presents a new and interesting photo feature from somewhere in the United States. Chosen from a wide variety
of historic sites, city scenes, backcountry byways, points of interest and America's best parklands, this site offers the viewer hundreds
of unique vacation destinations and photographic subjects. Each feature is coupled with a brief explanation. For further detailed
information, links to other sites are provided, but are never to be considered an endorsement.

Other nearby
Points of Interest
&nbsp
&nbsp
Bennett-Bean Bridge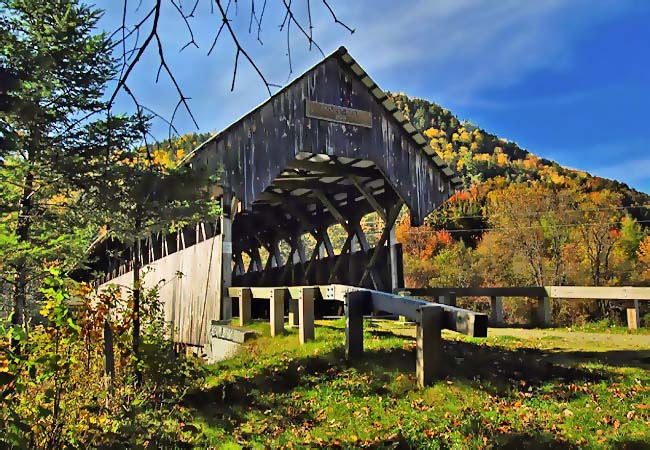 Just like many other parts of the country, Maine joined the covered bridge era in the mid 1800s. Many of these wooden bridges, assembled by local builders, followed a half dozen popular truss designs, such as the Howe, Town lattice and Burr. Lost to flood, fire and progress, only nine of Maine's 126 covered bridges remain. Since the Little Black River Covered Bridge was removed in 1956 for a concrete replacement, Maine has taken steps to maintain and preserve the last few historic bridges.
Built in 1898, one of Maine's Paddleford truss bridges is found near the New Hampshire border. Just a mile and a half south of Wilsons Mills, the 92 foot Bennett-Bean Bridge spans the Magalloway River.

With funds from National Historic Covered Bridge Preservation Program, the 200 year old bridge received a complete overhaul in 2004.
Building a bridge in this remote section of the country in 1898 was quite an undertaking. Historic records indicate that a small percentage of the 780 dollar price tag involved transportation costs. A six day rafting trip ferried building materials for 26 miles to the bridge site. Utilized for the next 60 years, the Bennett Bridge saw its last automobile crossing in 1958.

Map
Copyright © 2012 Benjamin Prepelka
All Rights Reserved