Scenic USA - Hawaii
Scenic USA offers a collection of select photographs from a wide variety of attractions, points of interest, historic sites, state parks and
national parks found throughout the United States. Each photo feature is coupled with a brief explanation.
For further detailed information, links to other related sites are provided.
Laupahoehoe Point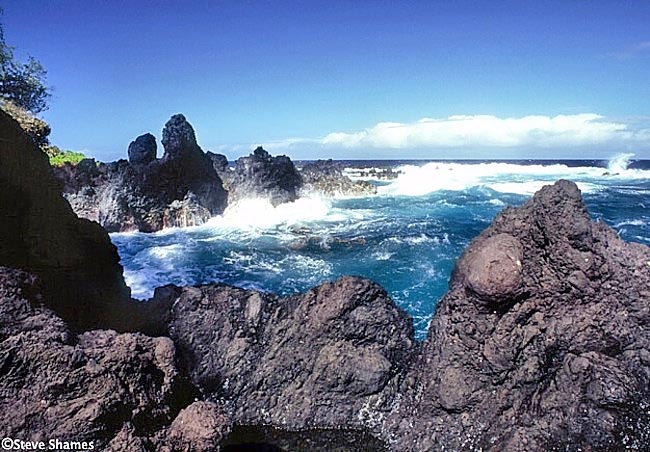 A clock on Kamehameha Street in Hilo has remained frozen at 1:04 A.M. for the last 64 years when a huge tsunami rolled over the Hawaiian Islands. This series of waves, averaging 25 to 50 feet high, were generated from a distant offshore earthquake in the Aleutians. The disaster took place April 1, 1946, nearly five hours after the earthquake occurred. The tsunami killed 170 people, including a lighthouse crew on Unimak Island, plus 159 in Hawaii. This was not first or last tsunami that would devastate Laupahoehoe Point. According to the USGS, 50 tsunamis have been reported in Hawaii over the last 200 years.
Rather risking more deaths, the area around Laupahoehoe Point was established as a beach park. This beautiful seaside park, surrounded by ragged a'a lava and a background of rugged cliffs, is found midway on the Hamakua Coast of the Big Island (Hawaii). Decorated with windswept ironwood trees, a dramatic coastline and a mesmerizing ocean waves, visitors rave about the picturesque area. Here at Laupahoehoe Point Beach Park guests find picnicking spots along the beach, an assortment of tidal pools and excellent fishing. The relentless surf is held at bay by the line of black lava walls, creating a cozy beach-side setting.
Copyright ©2010 Benjamin Prepelka
All Rights Reserved