Scenic USA - Pennsylvania
Scenic USA offers a collection of select photographs from a wide variety of attractions, points of interest, historic sites, state and
national parks found throughout the United States. Each photo feature is coupled with a brief explanation.
For further detailed information, links to other related sites are provided.
Washington's Headquarters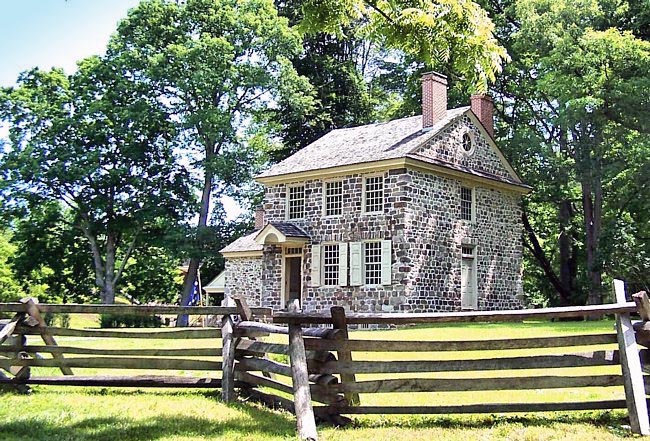 British forces were called in to put a stop to America's independence movement and quell the ragtag rebel troops. It was George Washington that took charge at Valley Forge, Pennsylvania and formulated plans to free Philadelphia from the British. A few months earlier, the British troops, under Sir William Howe, landed near upper Chesapeake Bay, with their sights set on Philadelphia, capitol city of the Colonies.
Valley Forge was 18 miles northwest of Philadelphia, a site selected by Washington. The area's name came from an iron furnace located along Valley Creek. Washington's headquarters, shown here, was a rented home, a common practice for the times. From this home, Washington and his aides coordinated the Continental Army's operations. The winter of 1777/78 was particularly harsh and decimated the troops. Severe shortages of clothing and food took their toll as over 2,000 of the men died of hunger, disease and exposure. By spring, Baron Friedrich von Steuben had the army turned around and shaped into a well trained, dependable force.
Copyright ©2006 Benjamin Prepelka
All Rights Reserved