Scenic USA - Oregon
Scenic USA offers a collection of select photographs from a wide variety of attractions, points of interest, historic sites, state parks and
national parks found throughout the United States. Each photo feature is coupled with a brief explanation.
For further detailed information, links to other related sites are provided.
Mount Thielsen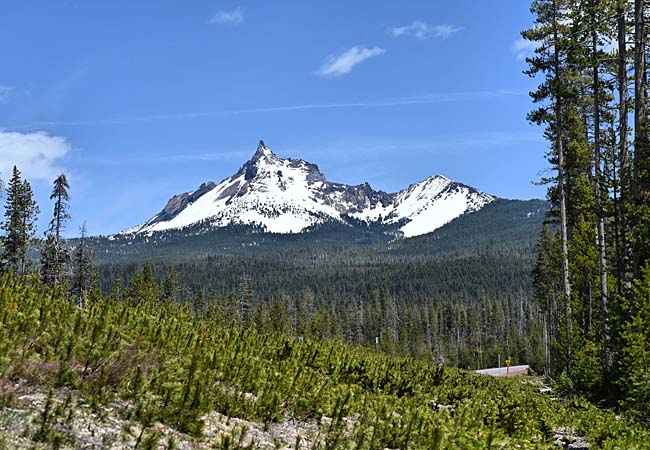 Heading to Crater Lake National Park from the northwest, visitors follow along Route 138 through Umpqua National Forest. Here, the highway has garnered three byway designations (national, state, and national forest), securing its status as an elite scenic byway. As the Rogue-Umpqua Scenic Byway climbs through the Western Cascades, visitors will notice this area is as wild as it is wonderful, accentuated by magnificent mountain peaks and thick forests. Campgrounds and waterfalls liter the highway as it follows the North Umpqua River.
All these snowcapped peaks and massive basaltic cliffs are a product of two of the earth's tectonic plates colliding. As the North American Plate rides over top the Juan de Fuca Plate, lava flows are forced upward to the earth's surface. As visitors approach the north entrance to Crater Lake, there's no doubt Mount Thielsen will grab everyone's gaze. Better known as a lightning rod, rather than a climber's challenge, Mount Thielsen is a composite cone built on top a remnant shield volcano. Dating back about 300,000 years, the colorful beds of tuff and coarse volcanic breccias were forced up along the edge of the North American Plate.
Picture here is Mount Thielsen's dagger-like peak (a volcanic plug) as it rises above a thick forest of old Douglas fir, spruce and white bark pine. Near the summit, countless lightning strikes have created a variety of fulgurites, seen as patches of dark-brown to dark-green glass. The centerpiece of Mount Thielsen Wilderness, also called the Big Cowhorn, will definitely slow sightseers along the Umpqua-Rouge Scenic Byway.
Copyright ©2010 Benjamin Prepelka
All Rights Reserved