Scenic USA - Michigan
Each day Scenic USA presents a new and exciting photo feature from somewhere in the United States. Chosen from a wide variety
of historic sites, city scenes, backcountry byways, points of interest and America's best parklands, this site offers the viewer hundreds
of unique travel destinations and vacation ideas. Each feature is coupled with a brief explanation. For further detailed information, links
to other related sites are provided, but are never to be considered an endorsement.
Superior Falls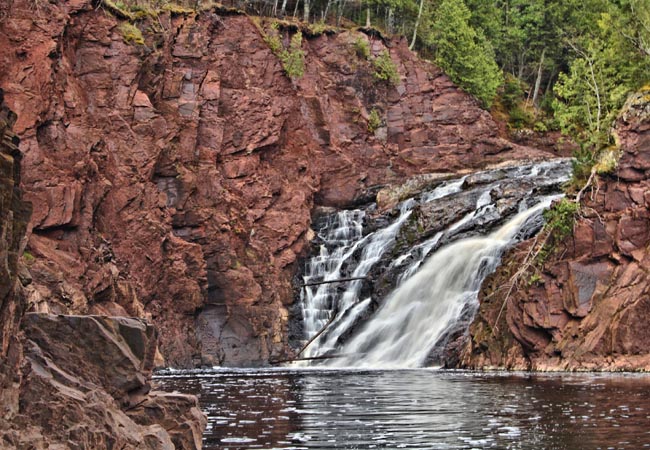 All along the southern shoreline of Lake Superior, a series of spectacular waterfalls spread across Michigan's Upper Peninsula (U.P. falls) and four of Wisconsin's northern counties (WI falls). About half way between the cities of Marquette and Superior, the Montreal River creates a convenient dividing line between Michigan and Wisconsin.
Located just a short distance from the Lake Superior shore, the Montreal River drops through a dramatic gorge, creating the highest waterfall in the area. Although the power company siphons off plenty of water for a hydro-electric plant, the 90 foot cascade still provides a powerful roar.
The waterfall overlook, located on the eastern side of the river, is found by taking Route 122 from Saxon, Wisconsin. Although not well marked, crossing the Montreal River gives the first clue that you're close by. From the Gogebic County Forestry overlook, views of the lower falls and a partial upper falls may pique your interest of a view from base of the waterfall. A roughly paved narrow road leads straight down to Lake Superior. From the shoreline, an informal pathway leads back along the riverside. The trail ends as the river broadens into a large pool a few hundred yards away from the falls. On returning, a tempting set of stairs leads up to the Northern States Power Plant above, but you'll find it's best to trudge back up the very steep road to the parking lot above.
Copyright ©2011 Benjamin Prepelka
All Rights Reserved