Scenic USA - Texas

Aransas Bay
---
---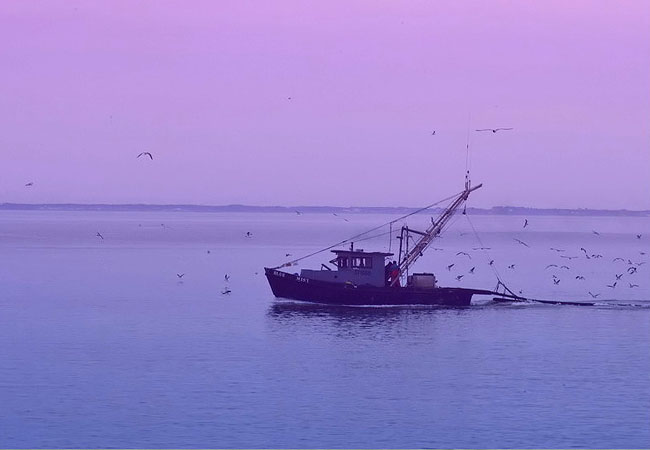 A long sweeping arc, made up of a thin line of barrier islands, separates the Gulf waters from the southeastern coastline of Texas.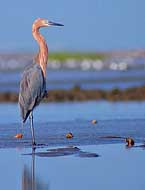 Gulf Coast visitors find these barrier islands varying from the longest stretch of undeveloped beach in the world (North Padre Island), to the lively Gulf shore cities of Port Arthur and Galveston. Bays and estuaries, created by the 600 mile long string of islands, create a rich ecosystem of fisheries and shorebird habitats.
   In this early morning scene, enveloped in a cool bluish mist, a commercial trawler heads out on Aransas Bay with a full day's work in store. By the start of the 21st century, Texas shrimping industry at the wholesale level was estimated at a half billion dollars a year. Up until the Deepwater Horizon oil spill, Texas was second only to Louisiana in the harvest of Gulf shrimp.
   Located between Corpus Christi and Galveston, Aransas Bay is a part of a large bay complex, heavily influenced by the freshwater of the Aransas and Mission rivers. Inshore, sea trout, redfish and sheepshead make up the majority of bayside catches. Aransas Pass, the quickest route to the Gulf, leads anglers offshore to amberjack, kingfish, tuna, dolphin (mahi-mahi), and plenty of sport fishing action. Located on a major migration route called the Central Flyway, this area is a natural place for birds and bird-lovers.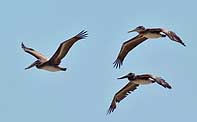 More than 380 species of birds have been found along this stretch of coastline, nearly half of all bird species documented in North America. Along with local shorebirds, migrating species include sandhill cranes, snow geese, redheads, American wigeons and northern shovelers.
   As anyone could guess, the Aransas Bay is all about fishing and shrimping, and the TPWD continues to monitor catches and threats to the health of the bay. Because of the great commercial and recreational importance, preservation of this bay and estuary system is one of their top priorities.

    Area Map
---
| | |
| --- | --- |
| Nearby Points of Interest | |
---
Copyright © 2009-16 Benjamin Prepelka
All Rights Reserved