Scenic USA - Navajo Nation, Arizona
Scenic USA offers a collection of select photographs from a wide variety of attractions, points of interest, historic sites, state and
national parks found throughout the United States. Each photo feature is coupled with a brief explanation.
For further detailed information, links to other related sites are provided.
Monument Valley Mittens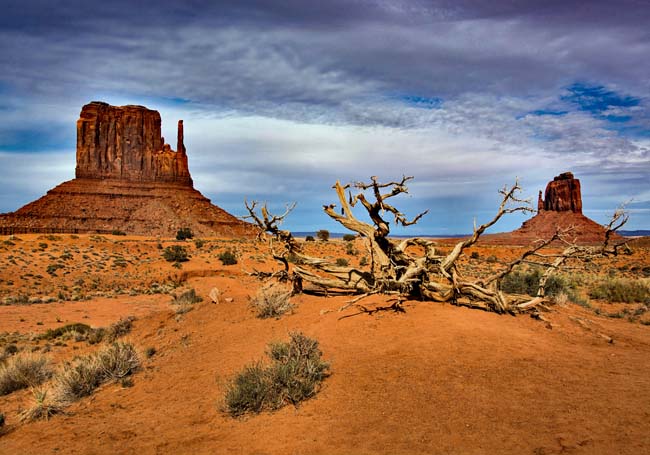 Monument Valley holds some of the most reconizable icons of the great Southwest. The Mittens, as well as other valley buttes and mesas, rise up hundreds of feet from the red-rock valley floor just south of the Utah and Arizona border. Sometimes these red rock features are referred to as timeless and enduring. A recent geological event at the Monument Valley Navajo Tribal Park reminds us that these monuments are finite and cannot escape gravity and erosion. On May 18, 2006 a huge slab on the East Mitten butte came loose and made a thunderous roar as it tumbled down the talus slope. A dust cloud welled up and enveloped the magnificent butte, shocking those visitors that looked on.
In this view a brief thunderstorm has enhanced the red siltstone rocks, bringing out the rich, deep colors. The wind, rain and frost are all deadly enemies of these wonderful monuments.
Copyright © 2006 Benjamin Prepelka
All Rights Reserved