Scenic USA - Alaska
Scenic USA offers a collection of select photographs from a wide variety of attractions, points of interest, historic sites, state and
national parks found throughout the United States. Each photo feature is coupled with a brief explanation.
For further detailed information, links to other related sites are provided.
Skagway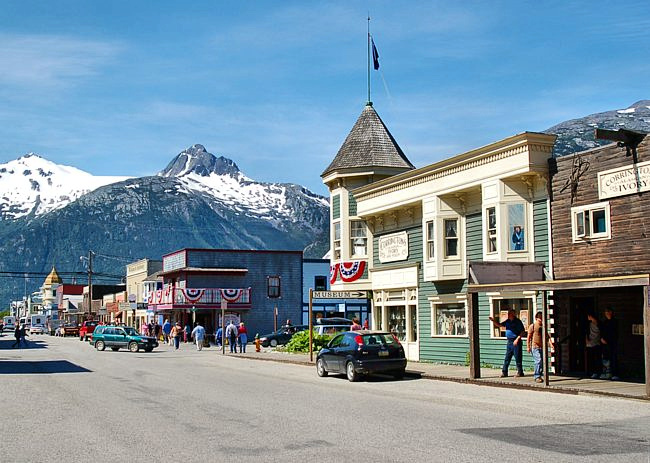 Looking back, Skagway has experienced a lively history, ever since Skookum Jim Mason, a Tlingit packer, lead William Moore over present day White Pass and into the Skaqua River Valley in 1887. Just nine years later, it seemed as though the world packed up and headed to the Klondike River area. The discovery of gold set off one of the largest migrations of prospectors and speculators in United States history. Over 100,000 gold seekers headed to Alaska seeking a fortune in the Yukon, nearly a 600 mile trek from Skagway. Stories of a limitless gold supply attracted 18,000 people to Dawson City and the Klondike Mining District.
Today, the spirit of Skagway's gold rush days are preserved at Klondike Gold Rush National Historical Park. Twelve historic buildings make up the park service guided walking tour. Skagway has become one of the top ports of call in the world. Over 750,000 visitors pour into town during the summer season. The hundred year old White Pass and Yukon Railroad is also a popular attraction out of Skagway.
Copyright ©2007 Benjamin Prepelka
All Rights Reserved