Scenic USA - Alaska
Scenic USA offers a collection of select photographs from a wide variety of attractions, points of interest, historic sites, state and
national parks found throughout the United States. Each photo feature is coupled with a brief explanation.
For further detailed information, links to other related sites are provided.
Disenchantment Bay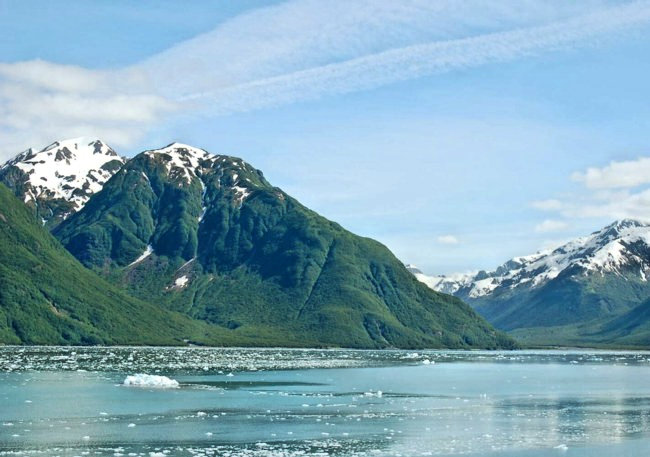 While native Eskimos, Aleuts and Indians trace their Alaskan heritage back thousands of years, it was the Russians that spread their influence and spurred the beginning of modern day cities in Alaska. Lured by furs and gold prospects, resident Russians gave their own names to rivers, towns, lakes and islands. Vitus Jonassen Bering, a Danish born sea captain, sailing under the Russian flag, is credited with major expeditions into the North Pacific. Bering died in December 1741 and was buried on Bering Island along with 28 more from his company.
Pictured here is Disenchantment Bay that extends from Russell Fiord to Yakutat Bay. Oddly enough, the bay was not named by a Russian explorer, but a disenchanted Italian. Captain Alesandro Malaspina called the bay area Puerto del Desengano. Malaspina was searching for a passage to the Atlantic and found the bay blocked with ice. Today, it's feared that Hubbard Glacier, thickening and advancing forward, closing the Seward entrance of Russell Fiord and creating the largest glacier dammed lake in North America.
Copyright ©2006 Benjamin Prepelka
All Rights Reserved