Scenic USA - New Jersey
Scenic USA offers a collection of select photographs from a wide variety of attractions, points of interest, historic sites, state and
national parks found throughout the United States. Each photo feature is coupled with a brief explanation.
For further detailed information, links to other related sites are provided.
Cape May Lighthouse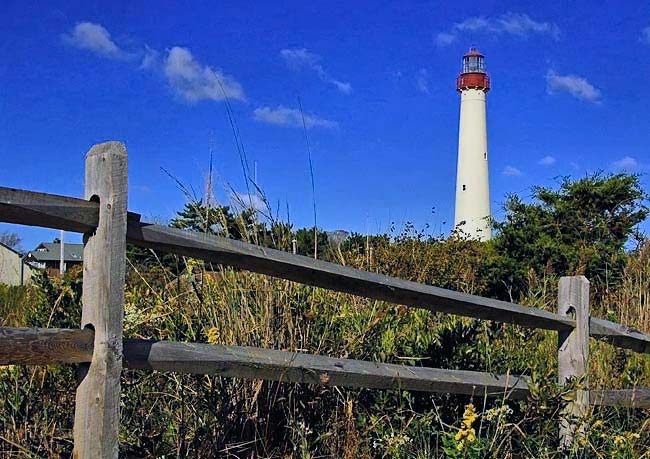 The tip of New Jersey's Southern Shore, extending into Delaware Bay, is crowned by the historic City of Cape May. Its gingerbread Victorian homes, bed and breakfast inns, and historic hotels attract hundreds of thousands of visitors throughout the year. Centered on one of the major migratory fly-ways, the Cape May Point Natural Area varies from forest habitats to coastal dunes and marshland. Seabirds and songbirds pass through the area each spring, as well as a fall migration of majestic hawks. Cape May Point is the last resting area as birds head southward across the Delaware Bay.
This southern point is also graced by the Cape May Lighthouse. Built from bricks of the previous tower, the classic style 157 foot lighthouse dates back to 1859. Still an active navigational aid, the lighthouse is a huge draw at Cape May. Over a hundred thousand different sets of footprints are left on the tower's cast iron spiral staircase each year. Operated by the Mid-Atlantic Center for the Arts, the lighthouse is open daily through the warm weather months. The grounds, tower and watch room gallery are open for self-guided tours.
Copyright ©2006-2009 Benjamin Prepelka
All Rights Reserved