Scenic USA - Texas
Scenic USA offers a collection of select photographs from a wide variety of attractions, points of interest, historic sites, state and
national parks found throughout the United States. Each photo feature is coupled with a brief explanation.
For further detailed information, links to other related sites are provided.
Lake Texana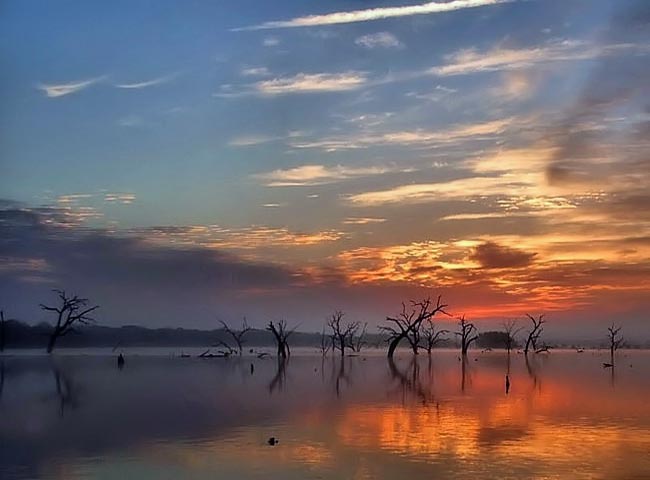 Named for a historic Texas town, Lake Texana is located in the coastal region along U.S. Route 59 about midway between Houston and Corpus Christi. Lake Texana State Park, first opened in May 1981, offers lake access and plenty of outdoor recreation. With the majority of focus on water related activity, the 575 acres of parkland's mix of pine, pecan and oaks, comes in at a distant second. This cooling tree canopy offers hikers and picnickers a bit of relief from the hot Texas sun. The park's deer, raccoons, a few bobcat and turkeys also rely of this forest habitat.
Covering 11,000 acres, the lake see plenty of boaters, jet skiers, and anglers. Large pockets of hydrilla, bull's tongue and duckweed, along with partly submerged trees and stumps, offer superb cover for bass and catfish. Here the crappie fishing is regarded as excellent. During the 1990s new regulations swept through the south, restricting black bass to a minimum of 14 inches and a daily bag limit of five. The hope was that these measures would promote the largemouth bass populations. Here in Lake Texana and The Jungle, an exceptional day's catch would include a Texas lunker.
Copyright ©2006-2009 Benjamin Prepelka
All Rights Reserved