Scenic USA - Arizona

Blue Mesa
---
---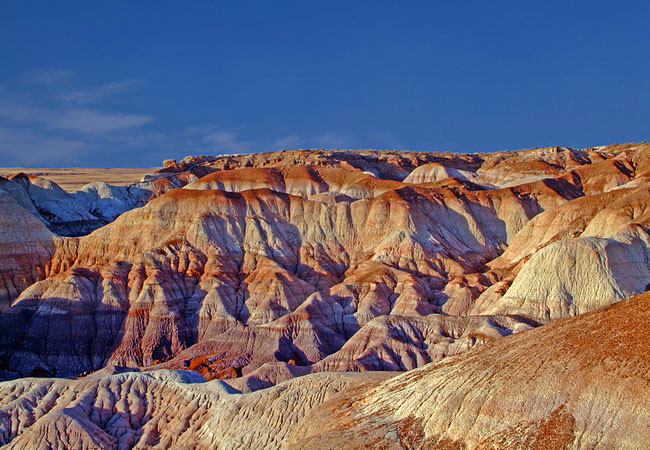 Known for its rich palette of colorful desert sands, the national park's section of Painted Desert is located just off the interstate in east-central Arizona. In fact Interstate 40 passes right through the Petrified Forest National Park and the Painted Desert, appearing to divide the park in two sections.
   Thick sand, silt and gravel deposits laid down millions of years ago by an ancient river system have re-emerged as colorful badland hills, broad mesas and distinctively shaped buttes. Resulting from extensive erosion, layers of exposed betonite and sandstone are interlaced with various minerals which stain the landscape in shades of red, blue, purple, grey, green and brown. Bentonite clay, one of the main components of the Chinle Formation, swells nearly seven times its size as it absorbs moisture, then shrinks and cracks as it dries. It's this constant movement of area soil that discourages any type of plant growth.
   Among the attractions south of I-40 in the Petrified Forest section, visitors may drive a three mile loop through the Blue Mesa.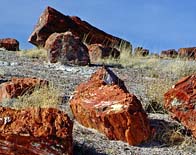 Although moderately difficult, a one-mile foot trail drops down into the badlands for a self guided tour. Displaying green, blue, lavender, white and brown banding, these Blue Mesa deposits are thought to be at least 220 million years old. Buried within these ancient layers of mudstone are telltale signs of an ancient conifer forest. Created over an incredibly long period of time, souvenir hunters carried off many of these chunks of petrified logs. During the early 20th century petrified wood was disappearing at an alarming rate, when finally the area received some protection as a national monument in 1932. Acquisition of the Painted Desert property went on to add 53,000 more acres, joining the Petrified Forest area as a national park in 1962.

    Area Map
---
| | |
| --- | --- |
| Additional Points of Interest | |
---
Copyright © 2013-16 Benjamin Prepelka
All Rights Reserved