Scenic USA - Florida

St Marks Lighthouse
---
---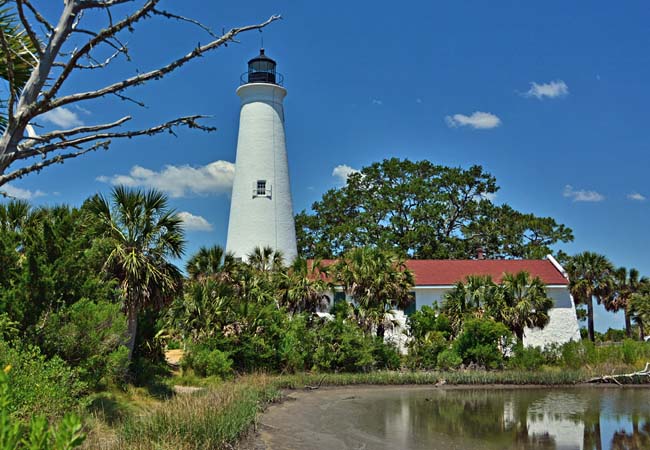 One of America's first wildlife refuges is just a short drive south from Florida's capital, Tallahassee.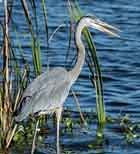 Covering more than 70,000 acres, the St. Marks National Wildlife Refuge was established in 1931 to provide wintering habitat for migratory birds. Including coastal marshes, islands, tidal creeks and broad freshwater estuaries from seven Florida rivers, the refuge is home to a diverse community of plants and animals. Bound to its rich cultural past, the refuge is also home to the St. Marks Lighthouse.
   For lighthouse enthusiasts, St. Marks lighthouse is still in use today and opened once a month for tours.
This classic lighthouse was built in 1842 and was the third lighthouse to guide boating traffic around Florida's Big Bend. The first lighthouse, built in 1828, dates back to an era when Florida was a territory, recently ceded by Spain. The original lighthouse quickly succumbed to beach erosion and today's tower, dating back to the 1840s, withstood the tidal forces of two hurricanes in 1843 and 1851. The lighthouse also experienced extensive damage during the Civil War when retreating Confederates blasted a few holes in the tower. The latest 150,000 dollar refurbishment left the lighthouse tower in reasonably good condition, and when the Florida Fish and Wildlife Service took over the light in 2014, a great effort was taken to remove and clean the fourth-order Fresnel lens. The historic lens, considered to be priceless, is now on display in St. Marks NWR visitor center.

    Area Map
    Lighthouse Tour Info
---
| | |
| --- | --- |
| Nearby Points of Interest | |
---
Copyright © 2006-16 Benjamin Prepelka
All Rights Reserved