Scenic USA - Indiana
Scenic USA offers a collection of select photographs from a wide variety of historic sites, points of interest, and a large
sampling of America's parklands. Each photo feature is coupled with a brief explanation.
For further detailed information, links to other related sites are provided, but in no means should they be considered an endorsement.
Mount Baldy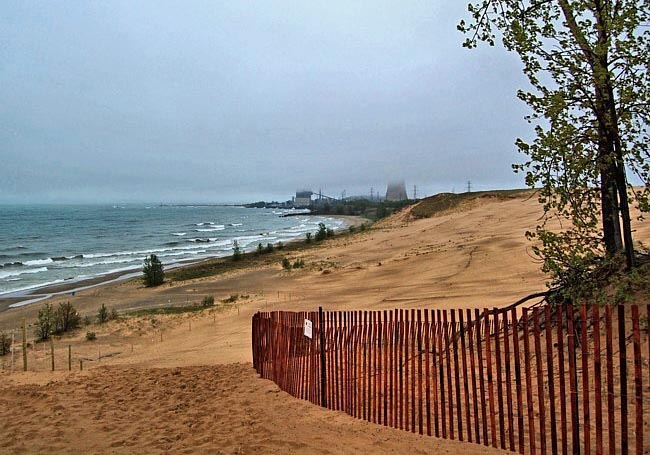 Located in a bustling Lake Michigan industrial setting and surrounded by a huge metropolitan region, first time visitors may find the Indiana Dunes National Lakeshore a big surprise. This national park features 15,000 acres of beaches, woods, marshes and a series of sand dune ridges. As Indiana's number one recreational destination, the park has four nature landmarks. Visitors may enjoy the park's diversity with a visit to the Pinhook Bog, Calumet Prairie State Nature Preserve, Portage Lakefront and Riverwalk and the tallest dune in the park, Mount Baldy.
From the shoreline, sand dunes rise in a collection of ridges, valleys and blowouts. Because of its claim as the tallest dune, foot traffic has taken its toll on Mount Baldy's vegetation. Marram grass, easily trampled, has been disappearing at an alarming rate. Mount Baldy's sands have moved inland about four feet every year, covering trees and advancing toward the parking area. A temporary fix ushers dune climbers to the southern slope of the dune. This view shows the temporary fencing in an attempt to reign in the footprints. While a permanent resolution is in development, park officials issue a plea to help preserve Mount Baldy. Please heed the interpretive signs and stay within designated boundaries.
Copyright ©2011 Benjamin Prepelka
All Rights Reserved