Scenic USA - Nevada
Scenic USA offers a collection of select photographs from a wide variety of attractions, points of interest, historic sites, state and
national parks found throughout the United States. Each photo feature is coupled with a brief explanation.
For further detailed information, links to other related sites are provided.
Sea of Mountains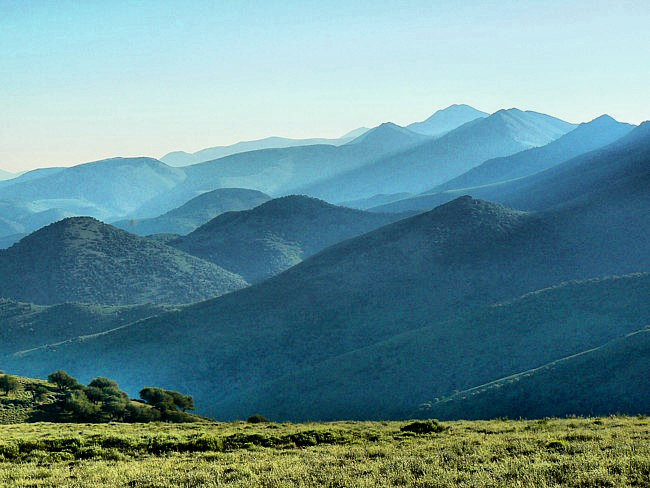 It's big, untamed, mountainous and wide open. Nearly 85 percent of Nevada's territory is managed by the Bureau of Land Management and the U.S. Forest Service. A sizable portion of the state's wilderness land is taken up by the Arc Dome Wilderness, covering the southern third of the Toiyabe Mountain Range.
This majestic view, taken from the rarely visited Toiyabe Crest Trail, punctuates the view from this high altitude range where much lies above 10,000 feet. The high point of the Crest is topped with the 11,773 foot Arc Dome, falling under the protection of the Arc Dome Wilderness. Over 70 miles in length, and because of its remote location, this Toiyabe Crest Trail seems to be made for the hiker seeking solitude and a bit of a challenge. Rob's week-long solo venture finds the national scenic trail nearly vanished mainly from the lack of use. Initially constructed by the Civilian Conservation Corps in the early 1930s, the trail today sees little to no maintenance, indicating the forest service has shifted their focus elsewhere. Sadly, the northern section of the trail is not protected. ORVs (off-road vehicles) regularly ravage approaches to the Toiyabe Crest, destroying public resources and watersheds, while damaging a delicate eco-system and increasing the danger of range fires. Perhaps it will take a sea of voices to protect these fragile lands.
Copyright ©2009 Benjamin Prepelka
All Rights Reserved