Scenic USA - New Mexico

High Road to Taos
---
---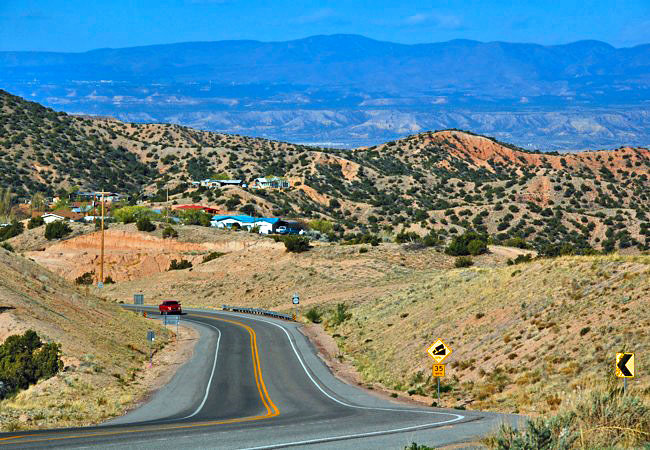 More than a scenic drive through the Sangre de Cristo Mountains, New Mexico's High Road to Taos is a journey back through centuries of time.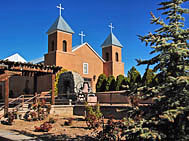 Between Santa Fe and Taos, this 56 mile byway highlights a half dozen 200 year old churches and just as many two, three, and even four hundred year old communities. This line of historic Spanish land grant towns and Pueblo Indian villages are all set against a beautiful backdrop of hazy blue mountains. This blend of two cultures is not as evident as one may imagine as the Pueblos continue their traditonal ceremonies, dances, unique dialects, age old arts and myths.
Passing through Santa Cruz, byway travelers get a sense of the tumultuous history as the Spanish attempted to control the area from roadside historic markers. After the Pueblo tribal revolt in 1680 had quieted, killing some 3500 Spanish settlers, the Spanish returned in 1692.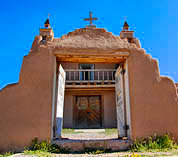 Led by Don Diego de Vargas, the new governor was more tolerant of the Pueblo culture. In 1695, De Vargas found his first town, Santa Cruz de la Canada. The present La Iglesia (church) de Santa Cruz de La Canada (upper inset) was built in 1733. Here the Santa Cruz church and town were witness to a revolt against the Mexican government in 1837 and the U.S. government in 1847.
Today, all seems peaceful in these tiny villages. Local museums, shops and galleries display traditional wood-carvings, hand-woven textiles, and fine red and black on cream pottery.
Although the High Road turns onto Route 76 at Truchas, continuing on into Truches is another wonderful byway stop.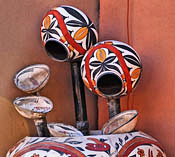 Northward to the next stop at Las Trampas, High Road travelers will find a small village founded in 1751. The town was designated a National Historic District by the National Park Service (NPS) in 1967. Here, you'll not want to miss seeing the Church of San Jose de Garcia (inset). Completed in 1776, a strong Spanish influence is evident in the architecture of this National Historic Landmark.
The byway officially ends where Route 518 meets 68 in Ranchos de Taos, but every visitor will want to explore the world famous town of Taos and Taos Pueblo just to the north.

Byway Map
---
Nearby Points of Interest
---
Copyright © 2012-16 Benjamin Prepelka
All Rights Reserved