Scenic USA - Wyoming
Scenic USA offers a collection of select photographs from a wide variety of historic sites, points of interest, and a large
sampling of America's parklands. Each photo feature is coupled with a brief explanation.
For further detailed information, links to other related sites are provided, but in no means should they be considered an endorsement.
Killpecker Dunes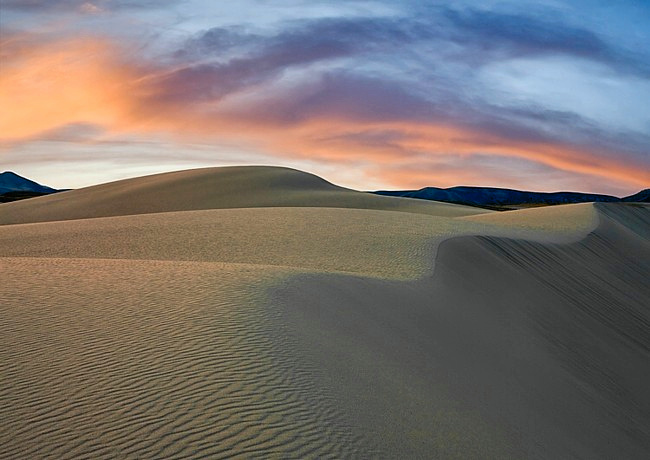 Overshadowed by Yellowstone Park to the west and Devils Tower in the east, Wyoming's Killpecker Sand Dunes receives little attention in comparison. Encompassing more than 100,000 acres, this dune field is the largest active dune region in North America. Surrounded by dormant dunes, this narrow band stretches across southwestern Wyoming for 150 miles.
Designated as an Area of Critical Environmental Concern, the Greater Sand Dunes region is unique to the Wyoming Basin area. Here at this site of exquisite raw scenery, and a haven for ATVers and photographers, visitors find large numbers of elk, waterfowl, songbirds, wild horses making use of this crucial winter habitat. The rare swift fox, and pygmy rabbit, roundtail chub, flannelmouth sucker live among the undulating hills and in dunal ponds that occur on the leeward side of large dunes. Snow, buried by blowing sand in the winter, slowly melts throughout the year, feeding these unique desert ponds.
As you would expect, riparian area damage caused by ATV's and campers, present an ongoing problem for BLM managers. Oil and gas wells compound the area's usage plans. Livestock grazing on the Greater Sand Dunes cause some of the most damage to the area's water supplies. Balancing all these various environmental challenges, and retaining hopes to please area ranchers, Native American tribes and environmentalists, have kept planners busy over the last few decades. In-depth assessments of the sand dunes and Buffalo Hump Wilderness Study Area may lead to alternative ways to protect these majestic dunes.
Copyright ©2011 Benjamin Prepelka
All Rights Reserved