Scenic USA - California
Each day Scenic USA presents a new and interesting photo feature from somewhere in the United States. Chosen from a wide variety
of historic sites, city scenes, backcountry byways, points of interest and America's best parklands, this site offers the viewer hundreds
of unique vacation destinations and photographic subjects. Each feature is coupled with a brief explanation. For further detailed
information, links to other sites are provided, but are never to be considered an endorsement.
Bridgeport Bridge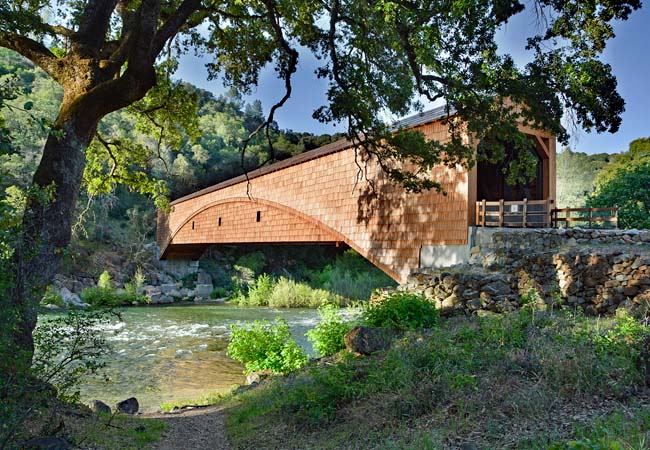 Laying claim to the longest single span wooden bridge of America was recently reaffirmed. Measurements of the old Blenheim Bridge in southeastern New York, confirmed the Bridgeport Bridge has the record by a fraction of a foot. The construction of this historic California landmark is quite a remarkable achievement. Crossing the chilly waters of the South Fork of the Yuba river, the (Nyes Crossing) bridge was built in 1862. Serving the nearby Silverland Gold Mines of Virginia City, the bridge was an important link of a Virginia Turnpike Company toll road.
One of only ten Californian covered bridges and a centerpiece for the South Yuba River State Park, the Bridgeport Bridge design used a combination of a Burr and Howe trusses. Two 5"x 14" Douglas fir timbers sandwiched the Howe truss, while an auxiliary Burr truss strengthened the assembly on the outside. Itís the Burr truss arch that is visible from the bridge exterior. Multiple trusses were used throughout the country making it possible for spans to cover 200 feet. Although the pine shakes give the Yuba River Bridge its unique appearance, the siding is primarily used to protect these massive timbers. Because most of the old-growth forest have been cut, these precious long span trusses are unable to be duplicated today.

On a sad note, the Blenheim Bridge was washed away by Hurricane Irene floodwaters, totally destroying the bridge on August 28, 2011.
Copyright ©2011 Benjamin Prepelka
All Rights Reserved