Scenic USA - Illinois
Scenic USA offers a collection of select photographs from a wide variety of attractions, points of interest, historic sites, state parks and
national parks found throughout the United States. Each photo feature is coupled with a brief explanation.
For further detailed information, links to other related sites are provided.
DuSable Harbor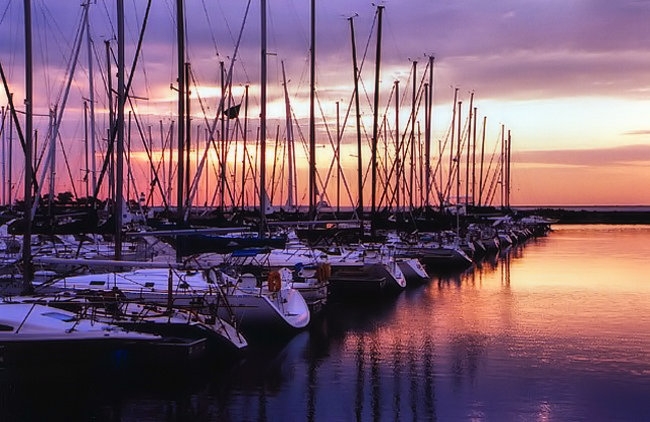 It's a beautiful morning on Chicago's Lake Shore Drive! Here at the foot of Randolf Street the sun begins to climb over DuSable Harbor, a port named for one of the first non-Native settlers, Jean Baptiste Pointe du Sable. This section of the Chicago Park District accommodates America's largest harbor system and dockage facilities, stretching from Lincoln Park southward to Jackson Park. More than 5000 boats take advantage of easy access to Lake Michigan, state-of-the-art floating docks and moorings.
Development plans along this section of U.S. Route 41 include a lakefront park honoring DuSable's initial contributions to the city. Although announced in 1987 by Mayor Washington, park plans have stalled. The three acre parcel was first eyed by developers, but Mayor Daley's administration enacted the Lakefront Protection Policy, limiting development east of Lake Shore Drive. Soil contamination (thorium), bankruptcies, a stalled economy, and complicated access ramp designs have halted the project. The DuSable Heritage Association remains hopeful that Chicago will someday host their park, plus see the completion of the Chicago Spire.
Copyright ©2010 Benjamin Prepelka
All Rights Reserved