Scenic USA - Florida
Scenic USA offers a collection of select photographs from a wide variety of attractions, points of interest, historic sites, state and
national parks found throughout the United States. Each photo feature is coupled with a brief explanation.
For further detailed information, links to other related sites are provided.
Yates House
Fort Christmas Historic Park, located in Central Florida, not only houses a replica fort and stockade, it also features a half dozen historic buildings.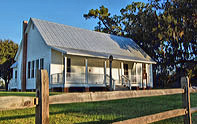 Fresh from a complete renovation is the 1906 Union schoolhouse and its lunch room.
Pictured here is the late 19th century Yates House, the home of John Burl Yates III and Poly Canada. Originally located along Taylor Creek, the converted shed became home. Because of the lack of space, the front porch became their kitchen and meals were often cooked in the front yard. The prominent chimney is made of sticks and marl clay mortar. The homesteaders tended a garden and enjoyed the area's abundant game, including hogs, turkey and deer.
Copyright © 2011 Benjamin Prepelka
All Rights Reserved