Scenic USA - Washington
Scenic USA offers a collection of select photographs from a wide variety of historic sites, points of interest, and a large
sampling of America's parklands. Each photo feature is coupled with a brief explanation.
For further detailed information, links to other related sites are provided, but in no means should they be considered an endorsement.
Mount Shuksan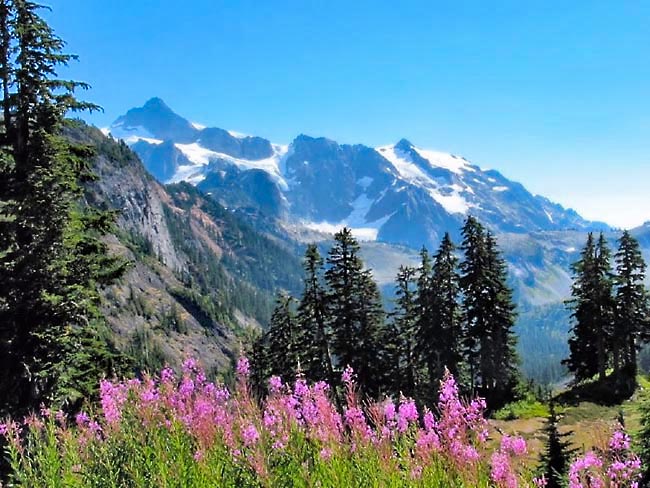 The Northern Cascades, spanning the border of the United States and Canada, are most notable for their dramatic scenery and mountaineering challenges. Although most are non-volcanic mountains, the otherwise young Mount Baker, Mt. Rainier, Glacier Peak, and Mount Saint Helens have all been active during the last 12,000 years.Mentioning the eruption of Mount St. Helens still rouses recent memories of incredible destruction for some. The prevailing weather pattern of the Northern Cascades, generated from Pacific waters, creates one of the snowiest places on earth. Here on the western slopes, snow accumulation is often measured in hundreds of inches.
Just to the east of the famed ski resort at Mount Baker, Mount Shuksan rises in a three-sided peak called Summit Pyramid. This glaciated massif, a large mountain mass, has graced more postcards and calendars than any other non-volcanic peak in Washington. Its picture perfect setting behind Picture Lake creates one of the most memorable scenes of the Cascades. It's not much of a climbing challenge, but because it's so close to the end of the Mount Baker Scenic Highway, the Mount Shuksan Trailhead sees plenty of visitors. Other hikes may include one of the five waterfalls which grace the Mount Shuksan area. Rated near the top among the region's outstanding waterfalls, Sulphide Creek Falls is one the tallest waterfalls in North America.
Copyright ©2011 Benjamin Prepelka
All Rights Reserved