Scenic USA - Arkansas
Scenic USA offers a collection of select photographs from a wide variety of attractions, points of interest, historic sites, state parks and
national parks found throughout the United States. Each photo feature is coupled with a brief explanation.
For further detailed information, links to other related sites are provided.
White Rock Mountain Overlook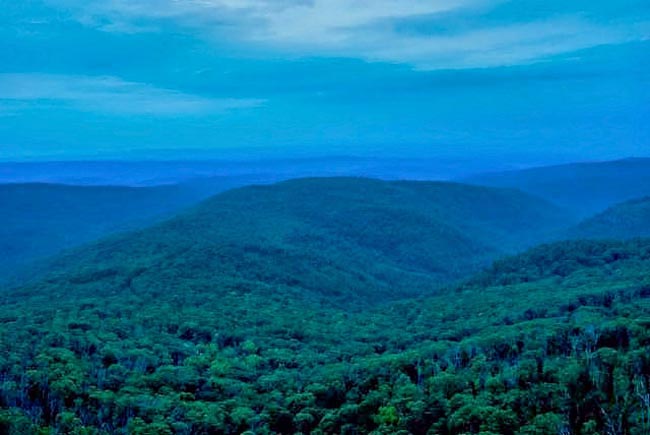 Here in the Ozarks, White Rock Mountain rises above the Ozark National Forest, offering a splendid view of an endless ripple of mountains and forestland. Part of the Ozark Plateau, White Rock Mountain is one of the tallest peaks of the Boston Range, named for its white lichen covered rocks. This pre-dawn view along the bluffs and the White Rock Mountain Overlook is just a part of a broad panorama from the top. Nearly 20 miles from Mulberry and Interstate 40, the White Rock WMA quickly transports visitors from the busy interstate to the peaceful Ozarks, seemingly miles from nowhere.
In this northwest section of Arkansas, the topography is heavily influence by the Saint Francois and Boston mountains. The Boston Range is not only the highest section in the Ozarks, but the most mountainous region between the east coast Appalachians and western Rocky Mountains. The area is an outdoor paradise, with one of the largest unchecked rivers in the mid-west, full flowing springs, waterfalls, cool mountain streams and miles of pristine wilderness trails.
Copyright ©2010 Benjamin Prepelka
All Rights Reserved