Scenic USA - Indiana
Scenic USA offers a collection of select photographs from a wide variety of historic sites, points of interest, and a large
sampling of America's parklands. Each photo feature is coupled with a brief explanation.
For further detailed information, links to other related sites are provided, but in no means should they be considered an endorsement.
Seiberling Mansion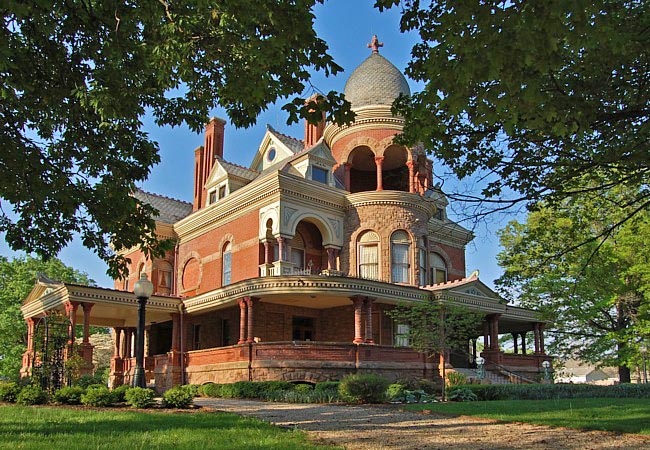 Kokomo's history dates back to 1840, when successful trader David Foster erected a log courthouse nearby wildcat Creek and named the town Kokomo. One of the last counties formed in Indiana, Howard County was incorporated in 1843. With a discovery of natural gas in 1886, this land that was just recently home for the Miami Indian tribe leaped into the industrial age. With an offer of free land and free natural gas, companies poured into Kokomo and Howard County.
Today, one finds Kokomo's industrial history firmly rooted in the automotive industry. Often called the city of firsts, Kokomo is proud of its past. This industrial setting saw the invention of America's first car, the first pneumatic rubber tire, the first carburetor, and the Delco Division's many firsts associated with their automotive radio.
One of the companies to take Kokomo's offer was the Strawboard Company, and its spinoff, the Diamond Plate Glass Company. Owner Monroe Seiberling moved from Akron, Ohio, to set up his businesses. Seiberling remained in Kokomo only a few years, but long enough to leave his mark on the town. Today's Howard County Historical Museum occupies the Seiberling Mansion. Built in the late 1880s, the mansionís design followed a mixture of late Victorian architecture. Fifteen rooms take up the first and second floor, while the third floor is completely dedicated to a grand ballroom. Less than an hour's drive from Indianapolis, teas and mansion tours are available Tuesday through Sunday, 1 PM to 4 PM.
Copyright ©2011 Benjamin Prepelka
All Rights Reserved