Scenic USA - Montana

Going to the Sun Road
---
---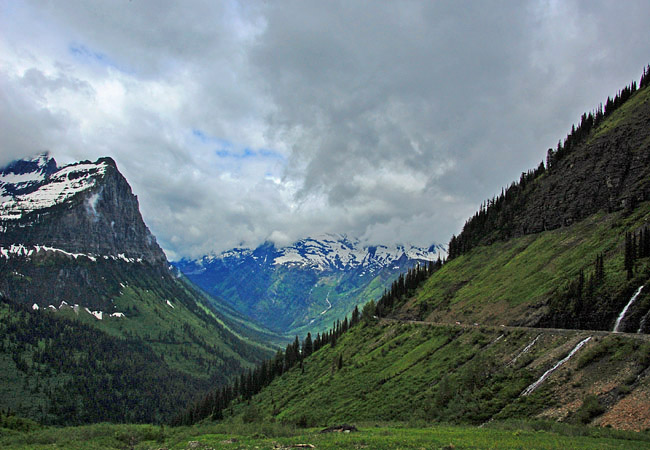 A name inspired by the Going-to-the-Sun Mountain, Glacier National Park's main highway became one of the most dramatic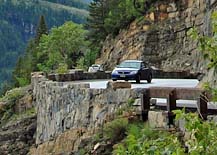 mountain byways in the United States in 1932 and remains so today. Scaling the Continental Divide at Logan Pass, unpredictable spring snows keep a large section of the highway closed until the first days of summer. Snow plows work continuously during the spring in a large scale effort to remove enough snow to make Sun Road travel the safest possible.
   Hugging the sides of the park's grand mountain peaks, the roadway must limit vehicle size between Sun Point and Avalanche Creek.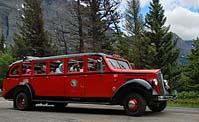 Road sections with rock overhangs, cascading snowmelt streams, a beautiful cedar forest, crystal clear lakes and humbling alpine scenery make certain that no other highway will equal this 50 mile thrill ride. Although you could drive this cloud level route in about two hours, some visitors may spend days and even weeks in an effort to explore the park's major sites. For the faint of heart, vintage White tour buses, affectionately called Gear Jammers, provide a unique touring experience.
   The Going to the Sun Road, a logistical and engineering marvel, was first opened in 1932.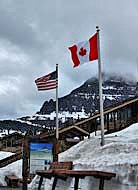 Built over the course of 11 years, laborers from all around the world used nearly a half million pounds of explosives, carved two tunnels through mountainside bedrock and moved tons of rock and dirt. Although steam shovels were finally allowed, most masonry work, bridge building, culverts, retaining walls and guardrails were typically done by hand labor. Animals, especially hungry bears, posed serious threats throughout the construction years. When dedicated in 1933, Secretary of the Interior Harold Ickes commended the workers stating, "It is a magnificent job, perfectly accomplished. Workmen, who risked their lives daily on the face of the steep cliffs that had to be conquered to make this modern trail, deserve special honor for their share in this great undertaking."
   Glacier National Park and neighboring Waterton Lakes National Park became the world's first International Peace Park in 1932.

     NPS - Plan Your Visit
     Area Map
---
| | |
| --- | --- |
| Additional Points of Interest | |
---
Copyright © 2013-16 Benjamin Prepelka
All Rights Reserved