Scenic USA - Ohio
Scenic USA offers a collection of select photographs from a wide variety of historic sites, points of interest, and a large
sampling of America's parklands. Each photo feature is coupled with a brief explanation.
For further detailed information, links to other related sites are provided, but in no means should they be considered an endorsement.
Roberts Bridge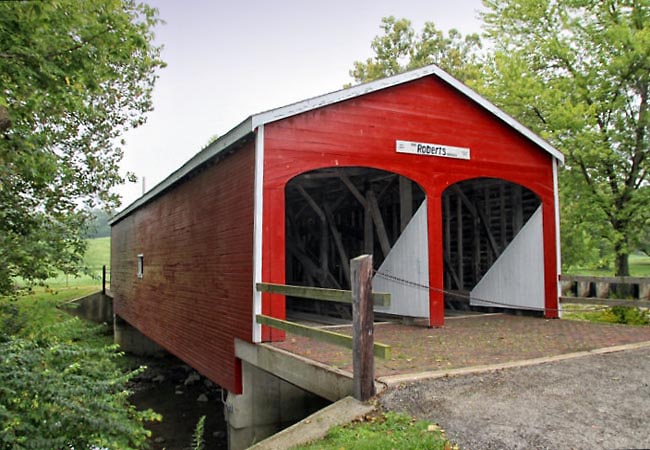 Long before two lane roads and automotive traffic, a single lane bridge was all that was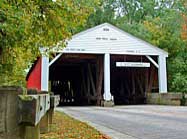 needed to take a horse drawn wagon or buggy across a small river or stream. A great way to generate a little extra cash, toll bridges flourished during the 19th century. And one of the most popular truss systems for these wooden bridges was the Burr arch, patented by Theodore Burr in 1804.
One of these early toll roads was established in northwestern Ohio, following today's U.S. Route 127. In order to complete the Camden Pike, a substantial bridge was needed to cross Seven Mile Creek. A contract was awarded to Orlistus Roberts to construct a 73 foot long, two lane bridge. Built of popular, beech and oak, this would be Roberts' last project.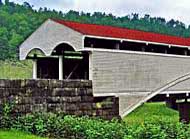 Before its completion in 1830, Roberts became ill and died, leaving completion to his apprentice James Campbell.
A survivor of arson and old age, the Roberts Covered Bridge is Ohio's oldest and only historic two-lane bridge. One of six double-barreled bridges remaining in the United States, the Roberts Bridge was moved and totally rebuilt in 1991. Its Burr arches were all that could be salvaged following a fire in 1986. Hoping to thwart any more mindless damage, the bridge was moved from the Old Camden Pike to South Beech Street in Eaton. One of a large group of Ohio's covered bridges, the Roberts Bridge has to be one of the most unique and valued historic reminders of the wooden bridge era.
Copyright ©2011 Benjamin Prepelka
All Rights Reserved