Scenic USA - Colorado

Maroon Bells
---
---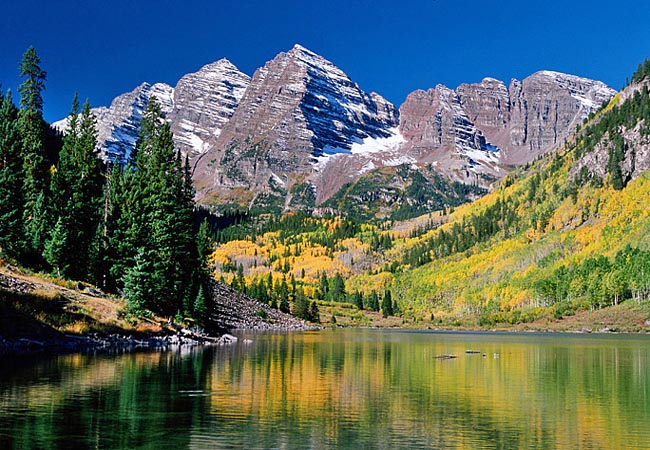 Although the Rocky Mountains stretch across the North American continent from Canada to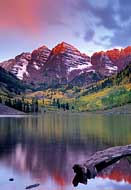 Mexico for 3000 miles, it's the Rockies in Colorado that attract the most attention. One of many sub-ranges, Colorado's Sawatch Range includes eight of the twenty highest Rocky Mountain peaks with the highest point in the state, topping out at 14,440 feet. The Elk Mountains, another sub-range of the Rockies, lie just to the west of the Continental Divide and the Sawatch Range. This range holds seven 14ers, meaning over peaks over 14,000 feet. Two of the notable peaks here are the Maroon Bells, one of the most photographed scenes in the Rockies.
Made up of the Maroon Peak and North Maroon Peak, the Bells never lose their special appeal. Visitors still flock to the Snowmass Wilderness Area to take in this spectacular view firsthand. When summer crowds became so large bus service from Aspen had to ease congestion. Now shuttle bus service from the Aspen Highlands Ski Area is mandatory between 8 am and 5 pm from mid-June until October 4th.
During the autumn season when the aspens turn a distinctive gold, this unique opportunity takes advantage of a time when all the photographic elements come together.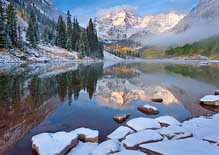 Perfect conditions include morning sun in the valley, a calm Maroon Lake, and aspen groves in full color. Unlike most mountains in the Rockies, composed of granite and limestone, the Bells are made up of metamorphic mudstone that has been changed into rock over time. While the mudstone is responsible for the Bells' distinctive maroon color, the soft rock crumbles easily and makes climbing the Bells a dangerous challenge. The U.S. Forest Service posts warnings on access trails, cautioning climbers of loose, unstable rock that kills without warning.
The Snowmass area, surrounding the Bells, was included in the original wilderness designation in 1964. Since then conservationists from Aspen have been successful in adding more land over the years, making Snowmass the 4th largest preserve in the state. And with this majestic scene on countless posts and blogs, it most likely will remain the most popular.

Area Map
Bells-Snowmass Wilderness Stewardship
---
| | |
| --- | --- |
| Additional Points of Interest | |
---
Copyright © 2009-15 Benjamin Prepelka
All Rights Reserved