Scenic USA - Utah
Scenic USA offers a collection of select photographs from a wide variety of attractions, points of interest, historic sites, state and
national parks found throughout the United States. Each photo feature is coupled with a brief explanation.
For further detailed information, links to other related sites are provided.
Temple of the Sun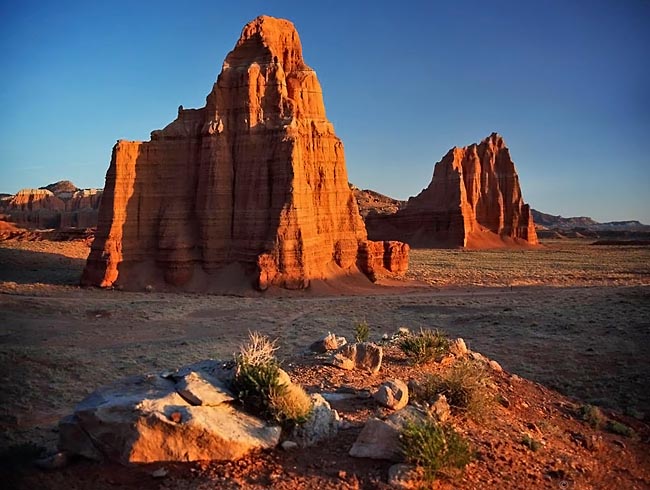 Caineville Wash Road heads north from Utah's Route 24. This gravel and dirt road, found about 10 miles east of Capitol Reef's eastern park border, leads inquisitive travelers off to an adventure through the slickrock countryside of Cathedral Valley. The track, sometimes treacherous when wet, makes a large loop and exits through the Capitol Reef's South Desert, via Hartnet Road. To bypass crossing the Fremont River ford on the Hartnet Road side of the loop, another route, using Thousand Lake Mountain Road, leads west to Route 72, exiting north of Loa.
Pictured here is one of the sights along the way, a massive sandstone monolith called Temple of the Sun. A sister formation, Temple of the Moon, also lies along the same short side trail. These formations are made up of Entrada Sandstone, deposited millions of years during the Jurassic Period. These pinnacles and monoliths were protected by a harder layer of Curtis sandstone, and the surrounding rock material has long since been eroded away.
Copyright ©2006 Benjamin Prepelka
All Rights Reserved