Scenic USA - North Carolina
Scenic USA offers a collection of select photographs from a wide variety of attractions, points of interest, historic sites, state and
national parks found throughout the United States. Each photo feature is coupled with a brief explanation.
For further detailed information, links to other related sites are provided.
Elizabeth II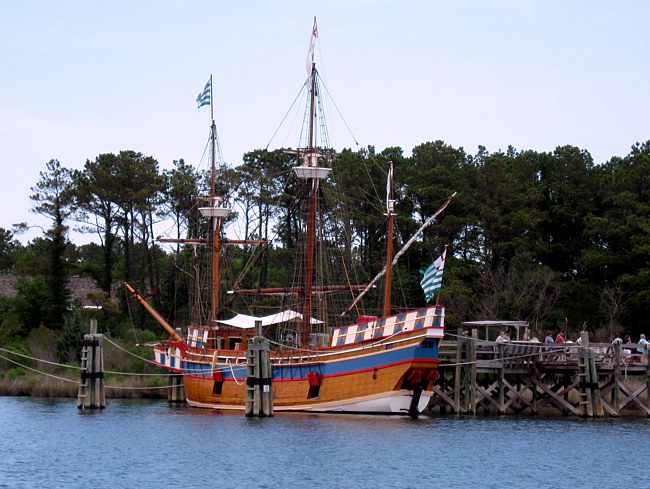 Roanoke Island, site of the Lost Colony, is seen as a stepping stone to North Carolina's Outer Banks. The island is located between the mainland and the outlying barrier islands and Nag's Head with plenty to see.
Pictured here is the Elizabeth II, found at the Roanoke Festival Park on the Manteo waterfront. The 16th century look-alike, built in the early 1980s with private funds, was modeled after period vessels such as the original 400 year old Elizabeth. The square rigged bark is 69 feet long, with her top mast reaching 65 feet. Built in the Creef-Davis Boatyard in Manteo, Elizabeth II was design with the characteristics of an English merchant ship. The ships framework was built with yellow pine, and decked with Atlantic white cedar. The bright color scheme followed the patterns of 16th century ships.
Drawing eight feet of water, a smaller boat was kept on board for landing parties. Elizabeth II's ship's launch was named the Silver Chalice. Built of white cedar and oak, the 24 foot single mast sailer holds 15 passengers. The Elizabeth II saw its first major overhaul in 1999 and is now serviced in dry-dock every winter. Aside from visiting up and down the Carolina Coast, the Elizabeth II is open for public tours. Costumed soldiers and sailors make this Roanoke Island history lesson fun.
Copyright ©2006-2009 Benjamin Prepelka
All Rights Reserved