Scenic USA - Washington
Scenic USA offers a collection of select photographs from a wide variety of attractions, points of interest, historic sites, state and
national parks found throughout the United States. Each photo feature is coupled with a brief explanation.
For further detailed information, links to other related sites are provided.
Lynch Glacier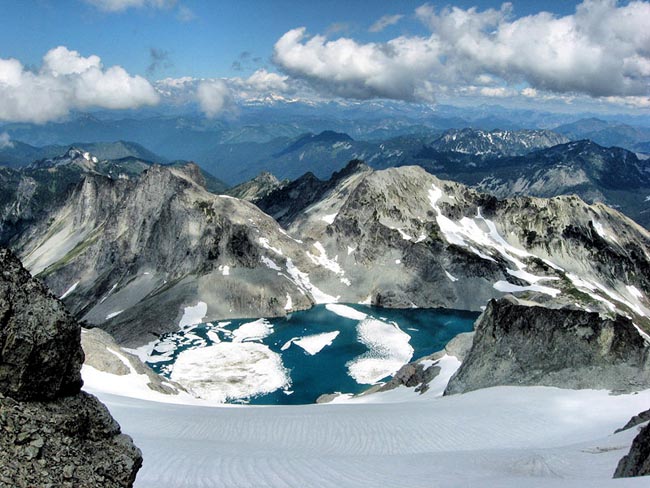 It's a clear, crisp day on Mount Daniel, high in the Alpine Lake Wilderness Area. This frosty view looks over the Lynch Glacier and Pea Soup Lake. In a classic example of glacier retreat, the Lynch Glacier shows a remarkable change since 1978 when it once filled Pea Soup Lake.
Little more than two hundred years ago, little was known about glaciers and ice field movements. Nearby the Alps, farmers and sheep herders observed slow glacier retreat from down-valley areas. Others scoffed at the idea of these massive fields of ice capable of any movement whatsoever. Experiments on Switzerland's Rhone Glacier, in the late 19th century, revealed not only a retreating movement, but ice within the center of the glacier was found advancing. Often new information requires further explanation.
Here in the Alpine Lake Wilderness, one of the largest preserves near the Seattle area, is a field study of glacier retreat. The area not only attracts scientists, but hikers and backpackers en masse. Heavy use of the Pacific Crest Trail brought on today's permit system. This land, originally controlled by the forest service, saw several preservation movements. Threatened with extensive logging, groups held off the charge until President Ford signed the Alpine Lakes Management Act into law in 1976. Alpine Lakes now covers 394,000 acres and preserves more than 700 lakes, glaciers and the rugged peaks of the Cascade Range.
Copyright ©2006-2009 Benjamin Prepelka
All Rights Reserved