Scenic USA - Wisconsin
Scenic USA offers a collection of select photographs from a wide variety of historic sites, points of interest, and a large
sampling of America's parklands. Each photo feature is coupled with a brief explanation.
For further detailed information, links to other related sites are provided, but in no means should they be considered an endorsement.
Fonferek's Glen Falls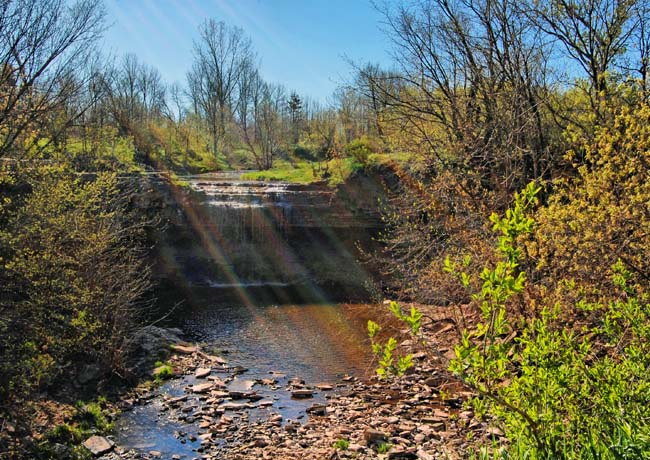 Just south of Green Bay, near the town of Ledgeview, Fonferek's Glen marks the beginning of Wisconsin's northeast waterfall country. Heading northward toward Lake Superior, a large collection of cascades can keep waterfall fans busy for days. This Brown County park is located in a rural area, mostly used today as farmland.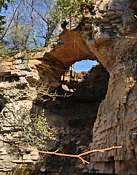 Bower Creek has managed to break through the upper layers of Silurian dolomite, easily eroding away the soft under-layers of cherty dolomite. Here at the falls area a short section of fence marks the overlook, but for the most part you can walk up to the edge of the cliff face. Steep drop-offs and a deep gorge may catch first time visitors by surprise.
The 78 acre park also features a natural bridge, where erosion has opened up a skylight in the cliff wall. Bower Creek's lack of water flow cuts down on the beauty of the waterfall, but makes it easy to cross the stream during your search for this natural bridge. Downstream of the falls, the cliff-side becomes negotiable. Unofficial trails are woven throughout the underbrush, and during the spring hikers will be treated to a carpet of wildflowers. The 30 foot waterfall may be the centerpiece for the Fonferek's Glen Conservancy Area, but the gorge and rock bridge deserve a close-up look as well.
Copyright ©2011 Benjamin Prepelka
All Rights Reserved