Scenic USA - Washington
Scenic USA offers a collection of select photographs from a wide variety of attractions, points of interest, historic sites, state and
national parks found throughout the United States. Each photo feature is coupled with a brief explanation.
For further detailed information, links to other related sites are provided.
Palouse Falls - Palouse Scenic Byway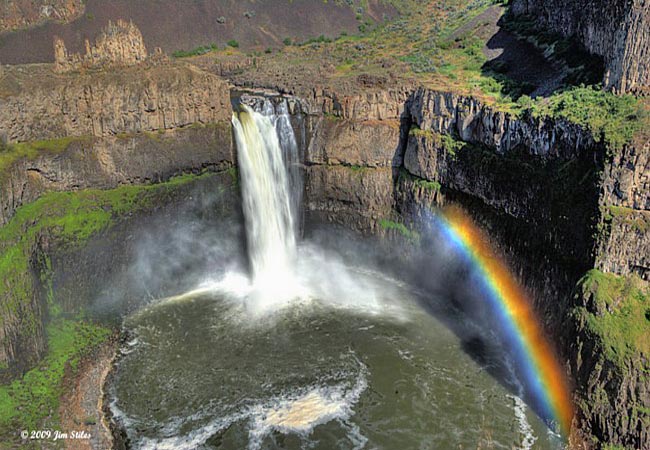 Joining Washington's byway program in 2003, the Palouse Scenic Byway takes visitors through a most unique section of the state. The land is a collection of long rolling hills, dramatic quartzite buttes, beautiful farmland and a harsh scabland created 13,000 years ago by one of the world's most violent floods (Lake Missoula) in the west.
The Palouse area is filled with friendly folks, either from its quaint towns or the home of Washington State University in Pullman. Covering just over 200 miles in and around Pullman, the byway leads to Steptoe Butte, Kamiak Butte and Bald Butte. These high rises offer panoramic views, as well as hiking trails and campsites.
One of the state's most spectacular waterfalls is found on the byway. Here in the heart of Washington's scabland the Palouse River drops 198 feet. When the sunshine catches the fall's mist, as in this wonderful view, a Palouse Falls rainbow appears. The Palouse State Park, set along the shores of the Palouse River, is one of the must see stops on the byway.
Copyright ©2006-2009 Benjamin Prepelka
All Rights Reserved