Scenic USA - Montana
Scenic USA offers a collection of select photographs from a wide variety of historic sites, points of interest, and a large
sampling of America's parklands. Each photo feature is coupled with a brief explanation.
For further detailed information, links to other related sites are provided, but in no means should they be considered an endorsement.
Judith Basin County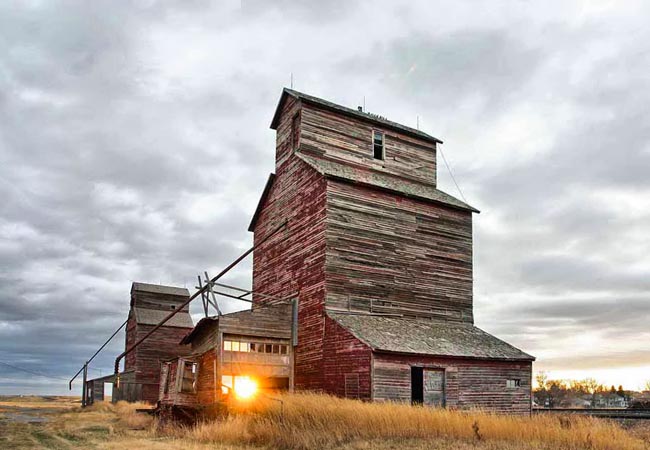 When Charlie Russell arrived in Montana in 1880, at age 16, he took a job as a ranch hand. Here on the Montana prairie, under the big sky, Russell became enamored with the dramatic scenery, wildlife and a wide-open prairie. Through Russell's drawings and paintings, this section of the West is well documented during the late 19th century. His work, now considered among the best of the western artists, depicted the plains Indians, early explorers, and some of the same spectacular scenery found in the Judith River Basin today.
Although the arrival of the Great Northern Railroad brought about significant changes to the area, the magnificent scenery of the plains remains. Here in Russell Country, the same sunrises and sunsets light up the sky and set the fields ablaze with a golden glow.
This abandoned grain elevator reminds us of the dreams and hopes that the railroad first brought in the early 1900s. Homesteads have since crumbled, a town has withered along an old railway spur and old fence posts mark the boundaries for some forgotten landowner. Here in Hobson, a few hundred people still enjoy the same landscapes, towering buttes, and broad fields which Charlie Russell captured on canvas a century ago.
Copyright ©2011 Benjamin Prepelka
All Rights Reserved