Scenic USA - Maine
Scenic USA offers a collection of select photographs from a wide variety of attractions, points of interest, historic sites, state parks and
national parks found throughout the United States. Each photo feature is coupled with a brief explanation.
For further detailed information, links to other related sites are provided.
Prospect Harbor Lighthouse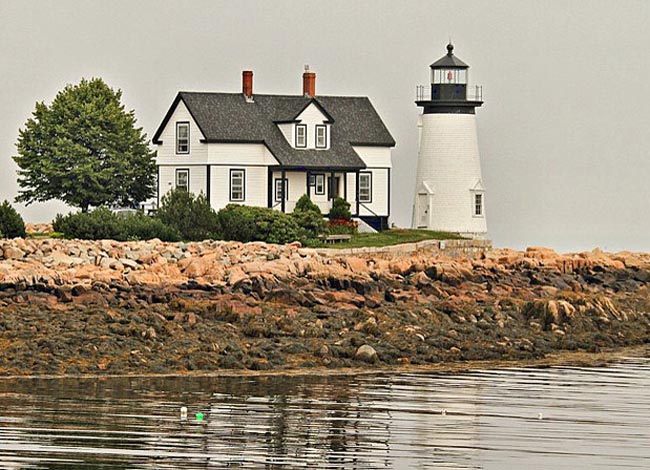 Recent renovations have the Prospect Harbor Lighthouse looking like new again. Built to replace the original 1850s light, the 1891 replacement was built with wood, posing serious problems a century later. Leased to the American Lighthouse Foundation in 2000, much needed repairs began on the interior stairway and tower ladder. But the biggest problem remained, removing the lantern room in order to replace its supporting deck and timbers. This costly project was partially funded by the American Lighthouse Foundation, with additional aid coming from the U.S. Navy and Coast Guard. Once the freshly painted lantern room was hoisted back into place and windows replaced, the lighthouse was reshingled and repainted, completing its facelift. This view captures the sparkling lighthouse ready for duty, and offers a look at the fine craftsmanship from the restoration team.
Although the lighthouse rests on naval property, a few strategic points in Prospect Village and outside the Navy Base offer some attractive views of the light-station. The keeper's cottage has also been fully restored and is available for overnight stays for active and retired military personnel. Known as the Gull Cottage, the fully furnished keeper's quarters accommodates up to six people. The cottage comes complete with a sitting area, bedrooms, kitchen, washer and dryer, and its own resident ghost.
Copyright ©2010 Benjamin Prepelka
All Rights Reserved