Scenic USA - Montana

Lake McDonald
---
---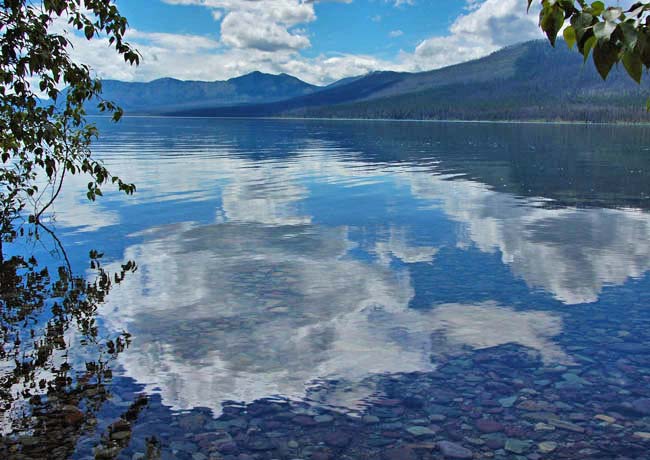 Despite the arid and semi-arid conditions in America's western states,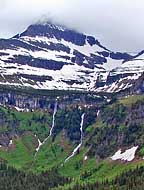 Glacier National Park is able to gather and retain more than its share of moisture, present in the form of ice, snow, streams and lakes. With mountain peaks continuing to be sculpted by glaciers, yearly snowpack and melting glaciers feed the park's alpine streams and lakes. By mid June glaciers begin to slowly thaw and continue to melt throughout the short summer season, sending icy water down the mountain slopes in all directions. At Triple Divide, water may travel east to the Atlantic Ocean, west to the Pacific or north to Canada's Hudson Bay.
Lake McDonald, pictured here, is one of 130 named lakes in Waterton-Glacier International Peace Park. The same types of erosion that helped sharpen mountain ridges, also formed deep cirques, surrounded by steep rock walls. Once the site of glaciers, these cirques, appearing to be formed by a giant ice-cream scoop, now hold alpine and sub-alpine lakes.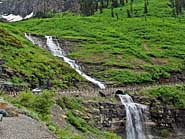 Here again, along the park road, glaciers were at work, carving out large glacial valleys. Waterton, St. Mary and McDonald lakes were all formed by deep glaciations. And in the area of today's Lake McDonald, a valley was formed by a 2000 foot thick river of ice. After quarrying a large volume of rock, a terminal moraine dammed off McDonald Creek, forming the largest lake in the park. Spanning a ten mile section of Going-to-the-Sun Road, this crystal clear lake is also the deepest in the park, reaching 465 feet. A wonderful hiking trail skirts the northern shore of Lake McDonald, with access from both Going-to-the-Sun Road and North Lake McDonald Road. Scenic views are found all around this picturesque lake, located just east of the park entrance at West Glacier.

Area Map
---
Additional Points of Interest
---
Copyright © 2006-16 Benjamin Prepelka
All Rights Reserved