Scenic USA - Missouri

Alley Spring Mill
---
---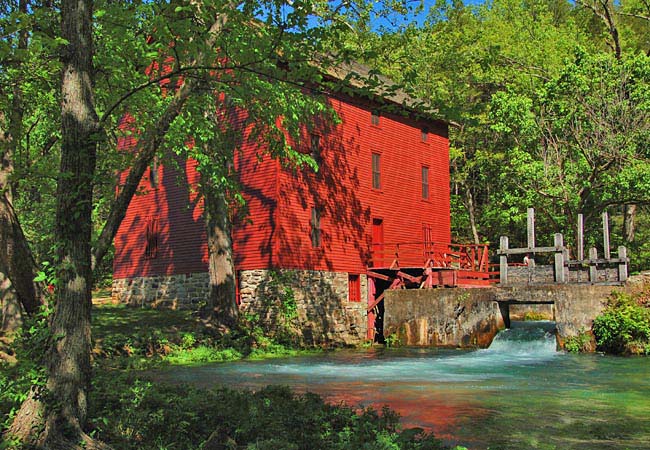 Alley Spring, seventh largest spring in Missouri, extends over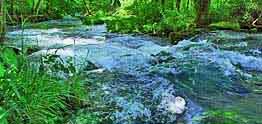 a half mile underground through a labyrinth of dolomite caves. The cool waters of Alley Spring Run, hovering around 58 degrees, flow for about a half mile to the Jacks Fork River. With a steady increase of 19th century Ozark settlers, this constant stream of water seemed the perfect fit for a mill.
   By 1894, a 30 year old mill was replaced by local speculator George W. McCaskill. Powered by a high-tech Leffel turbine instead of an older style over-shot wheel, the steady flow of spring water kept the new mill's steel rollers spinning whenever needed. Although McCaskill's Mill had all the latest equipment, setbacks from flooding and misinformed of the area's crop preferences kept profits at bay. The Alley Spring roller mill was built to produce wheat flower in an area where corn was the main crop. Still in all, the mill was vital to the community and became the gathering place for school, church, baseball games and dances.
   When the postal service arrived, the town was named for a prominent farming family. Going by the name of Barksdale's Spring and Mammoth Spring for years, post officials quickly settled on the name Alley Spring.
   Today's mill tours provide a look at the first floor milling process, where grain is picked up and put into bins which supply the milling machines.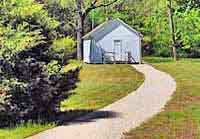 The flour or meal was then transferred to the second floor for shifting and bagging operations.
   Nearby, Ozark National Scenic Riverways guests will find Storys Creek Schoolhouse within walking distance from the Old Red Mill. Enrollment in 1903 included 42 students. Church services were also held at the schoolhouse. Just six miles from Eminence, the mill, schoolhouse and those incredible turquoise waters of Alley Spring have all the features for an exceptional visit.

    Area Map
    Ozark National Scenic Riverways Map


---
| | |
| --- | --- |
| Additional Points of Interest | |
---
Copyright © 2012-17 Benjamin Prepelka
All Rights Reserved