Scenic USA - Utah
Scenic USA offers a collection of select photographs from a wide variety of attractions, points of interest, historic sites, state parks and
national parks found throughout the United States. Each photo feature is coupled with a brief explanation.
For further detailed information, links to other related sites are provided.
Bear River Refuge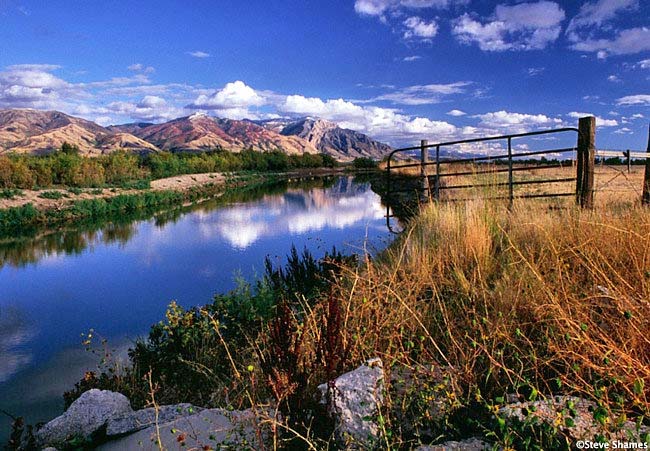 Utah's Bear River makes a dramatic bend around the Wasatch Mountains, flowing through Wyoming and Idaho before returning to Utah to empty into the Great Salt Lake. Over time, Bear River sediments began to creep into the lake, eventually creating a huge delta. Covering thousands of acres, this wetlands area provided a freshwater haven for millions of migratory birds.
As Salt Lake City grew, so did the need for water. The added burden of irrigation throughout the Bear River Valley significantly impaired the delta wetlands, causing a deadly epidemic among the confined bird population. The public outcry was enough to send the U.S. Congress into action, creating the Bear River National Migratory Refuge. By 1931, 50 miles of dikes and water impoundments were in place, improving critical bird habitats. Marshes were once again covered in sago pondweed and widgeon grasses. Recovering uplands are now dominated by wheat and salt grasses, with iodine bush and greasewood adding to the ground cover.
Although a major setback occurred when the swollen Great Salt Lake spread saltwater throughout the marsh system and flooding the Visitor Center in the mid 1980s, the refuge once again recovered. Today, miles of dikes have been restored and the Education Center updated. The refuge is now designated as a Western Hemisphere Shorebird Reserve Network site, and millions of feathered friends have returned.
Copyright ©2010 Benjamin Prepelka
All Rights Reserved