Scenic USA - Hawaii

Piilani Highway
---
---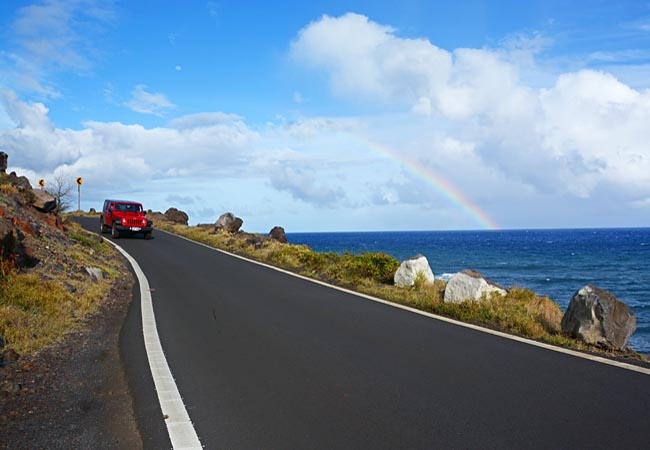 Hawaiian statehood is just a brief period of the island chainís history.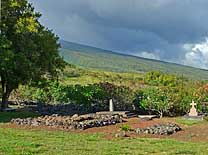 Declared a United States territory in 1898, 61 years later Hawaii joined the Union as the 50th state. Just like its Native culture, the islands canít escape its volcanic legacy, owing everything to a fountain of molten lava which grew thousands of feet skyward from the ocean floor. Maui,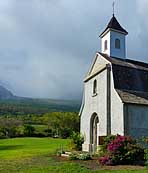 basically made up of two huge calderas, is one of the youngest islands.
From a birdís-eye-view, Mauiís major highways circle around these massive shield volcanoes, with only a few roads making any attempt to climb Haleakala Peak. Hana Road, one of Mauiís most famous highways takes in the northeastern coastline. The circular highway changes names and designations several times and takes on the name Piilani Highway on the southeastern shoreline. Here in the rain shadow of Haleakala Peak, the lush greens of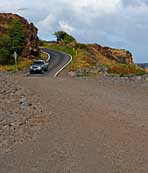 Hana Highway disappear, becoming a land of golden grasses and few trees. This view captures a freshly paved Piilani Highway, still a single lane but plenty of room to pass other cars. This scene of highway along the southern tip doesn't prepare first time traveler for the hairpin turns, rough road and cliff-hugging sections of the road just passed Kaupo. Back in Kaupo, visitors will find the only general store on this section of the coast. The historic St. Joseph Church is also located in Kaupo, established in 1862 for a thriving community of ranchers, fishermen and farmers.
The Piilani is not an easy drive ...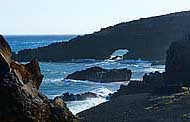 itís unpaved in sections, rough and rugged in spots, and often a tight single lane. About 40 miles in length, the Piilani Highway can be an exciting and very scenic experience. Because landslides may occur anytime, with a massive slide in 2006 taking out the highway, rumors often circulate about car rental agencies forbidding visitors from taking the route. After driving the twisting coaster ride on the Road to Hana and suffering car-sickness on the way, many brave the Piilani Highway on their return. Of course it's not much of a short-cut if you're are staying on the western side of the island, as the Piilani also returns to Kahului, the Maui hub.

Area Map
---
| | |
| --- | --- |
| Highway Points of Interest | |
---
Copyright © 2008-15 Benjamin Prepelka
All Rights Reserved