Scenic USA - Florida

Bulow Plantation Ruins
---
---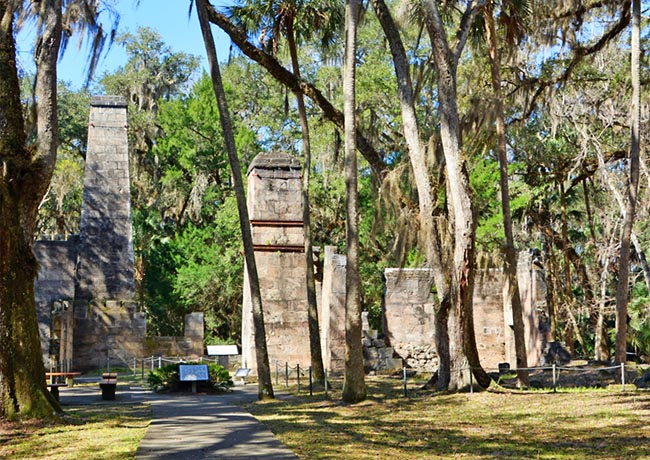 Florida's first pages of written history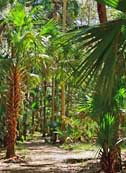 open with Ponce de Leon's exploration and the establishment of the first permanent Spanish settlement near St. Augustine. This vast colony, stretching all the way to the Mississippi River, became difficult to control. European disease decimated the native population, and needing allies to retain its colony, Spain encouraged northern Creeks into the peninsula. Descendants of these tribes, the Seminoles and Miccosukees, would surface again in Florida's history. After the French and Indian War, Florida was ceded to Britain. During the short 20 years of Britain's control, the colony began to flourish. Spain was soon to recover control when Britain lost its hold on America during the revolution.
   A combination of rich soil, slave labor and steam power propelled the Florida economy during the early 1800s. Word quickly spread about the profitability of cotton and sugar.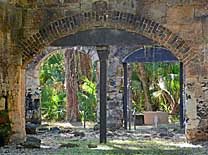 Along Florida's east coast in 1821, Major Charles Wilhelm Bulow set his sights on 2200 acres, clearing the land for sugar cane, cotton, rice and indigo. Success was short-lived, only 15 years passed when all was lost. The Seminoles Indians, resisting relocation, waged the Second Seminole War in 1835, lashing out against planters and settlers up and down the coast. Plantation slaves joined in the rebellion. Within a month all the thriving plantations lay in ruin, never to recover.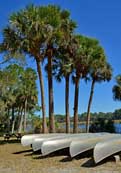 These coquina walls are all that remain of the Bulow Plantation mill, part of Florida's tumultuous history. Located nearby Flagler Beach, the Bulow Sugar Mill Ruins and Interpretive Center are listed on the National Register. A short trail leads visitors through a palm, oak and pine forest, passed a few foundation remnants of the slave's quarters and out to the mill ruins. Visitors are welcome forgo the quarter mile trail and to drive to the old mill where there is limited parking. Most visitors pause at the story boards, explore in and around the ruins and take another nature walk which leads out to a springhouse. The Bulow Plantation Ruins State Historic Site and nearby Bulow Creek State Park offer picnic sites, and access to the Bulow Woods Hiking Trail and Bulow Creek State Canoe Trail. The Bulow Plantation, the largest sugar mill in eastern Florida, is one of eight sugar mill historic sites open to the public.

     Area Map
---
---
Copyright © 2008-16 Benjamin Prepelka
All Rights Reserved