Scenic USA - New Mexico

Sandstone Bluffs
---
---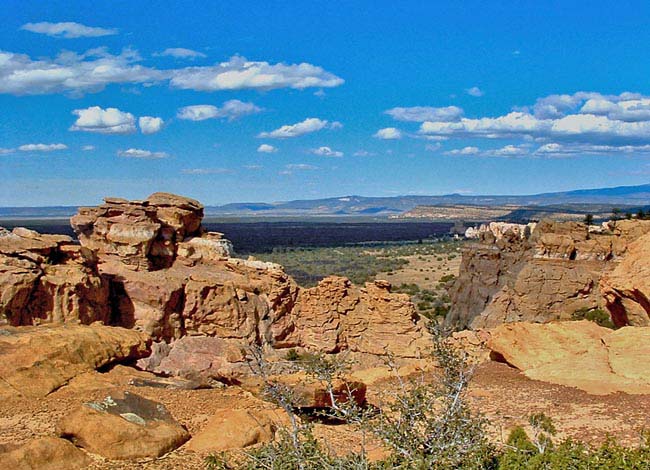 Just south of I-40 and the city of Grants, New Mexico visitors can't miss a huge section of the state called El Malpais. Meaning "the badlands" in Spanish, this national monument is covered in jagged spatter cones, lava tubes and year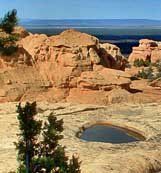 round ice caves. Lava poured out of the McCarty's Crater just about 2000 to 3000 years ago, creating the unearthly, lava strewn landscape that dominates the area.
   Here at the Sandstone Bluffs overlook, where lava flows meet a line of smooth sandstone cliffs, sightseers are able to gaze upon this relatively young lava field. An easy drive from Grants, the Bluffs feature unmarked hiking trails which follow the edge of a sandstone ridge for miles. Other primitive trails lead down to the valley where abandoned homesteads, petroglyphs and four large span natural arches add interesting sites to explore. The Garrett Homestead, built between 1935 and 1937, has been the focus of the Vanishing Treasures Program, an ongoing preservation activity for this historic cabin.
   During exploration of the bluffs, hikers may encounter potholes in the sandstone, called tinajas. When filled with rainwater, these tiny pools provide a mini ecosystem for fairy shrimp, tadpole shrimp, water insects and spadefoot toad tadpoles. Providing a miniature oasis in a dry climate, all types of area wildlife stop to quench their thirst at these pothole sites.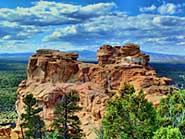 Continuing south along Route 117, just a few miles from the overlook, El Malpais (el-mal-pie-EES) guests may enjoy seeing New Mexico's second largest natural arch. Etched into the area's high sandstone cliffs is La Ventana Arch. A short hike from a roadside parking lot leads to the base of the arch. Cut into Zuni sandstone sometime in the distant past, the arch opening is about 120 feet. Continuing along the arch trail, hikers are following a similar route as Route 117 into an area called the Narrows. The eight mile Narrows Rim Trail heads southward along the mesa top, through a scattered forest of ponderosa pine, pinyon, and juniper.

    Area Map
    Cave clothing and equipment decontamination protocol
---
---
Copyright © 2006-17 Benjamin Prepelka
All Rights Reserved