Scenic USA - Washington
Scenic USA offers a collection of select photographs from a wide variety of attractions, points of interest, historic sites, state and
national parks found throughout the United States. Each photo feature is coupled with a brief explanation.
For further detailed information, links to other related sites are provided.
Skykomish River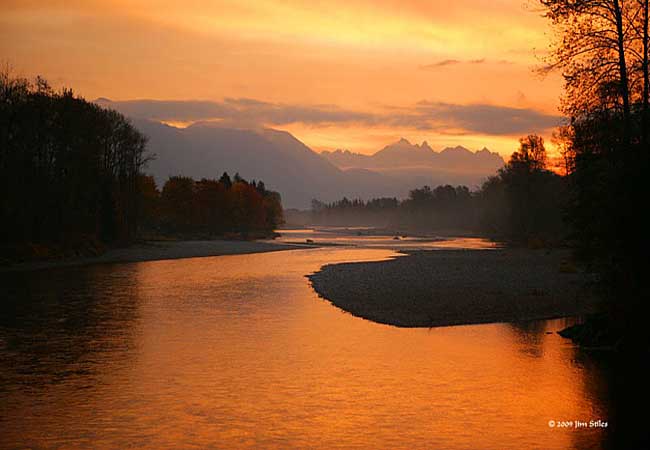 Washington's Skykomish River, well known for its thundering Class V rapids and great steelhead trout fishing, begins its journey high in the Northern Cascade Range and heads westward toward the Puget Sound. Two forks of the Skykomish, North and South, build with dozens of small tributaries, creating a handful of splendid waterfalls.
This Skykomish view captures the main river at daybreak. This free flowing river gives off a warm mist during the cool morning hours, partially clouding the Cascade's Ragged Ridge in the distance. Here, the Skykomish is viewed as the gateway to both the Alpine and Wild Sky wilderness areas. Just west of Seattle, U.S. Route 2 weaves alongside the Skykomish River and marks the southern route of the Cascades Loop Scenic Byway. This highway is often considered one of the most spectacular drives in North America. Winding along the river valley, climbing through the fresh air of an alpine wilderness, and passing by magnificent mountain panoramas, this byway presents more dramatic scenery than one can imagine. The Cascade Loop covers 440 miles requiring a minimum of a day, and taking more than two days at a leisurely pace.
Copyright ©2009 Benjamin Prepelka
All Rights Reserved