Scenic USA - Georgia
Scenic USA offers a collection of select photographs from a wide variety of attractions, points of interest, historic sites, state parks and
national parks found throughout the United States. Each photo feature is coupled with a brief explanation.
For further detailed information, links to other related sites are provided.
St. Simons Sound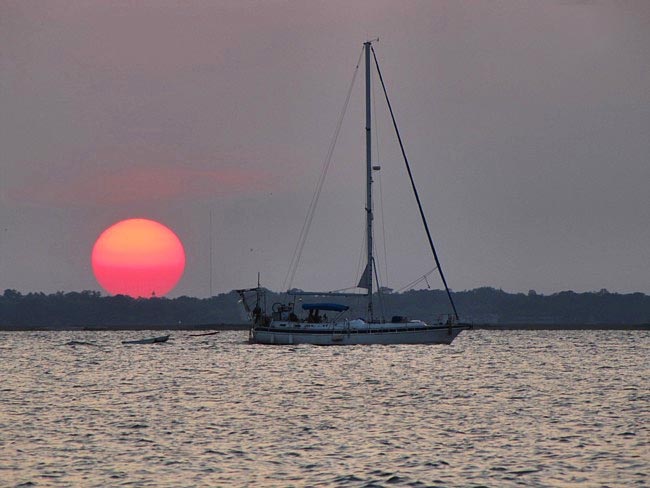 A natural break between St. Simons and Jekyll islands forms a waterway into the Brunswick River and the Georgia mainland. The St. Simons Lighthouse, one of the enduring beacons on the coast, stands on the north side of St. Simons Island. marking the cut. The first light, built in 1804, was one of the first brick structures on the island. Since then St. Simons Island has become one of the famous Golden Isles, favored by mild weather and cool Atlantic breezes. Here, island guests find the perfect recipe for year long vacationing. All along the Georgia coast, guests and residents delight in swimming, sailing, fishing and a string of beautiful beaches. Golfing enthusiasts enjoy the deep green fairways, while history buffs trace the beginnings of Oglethorpe's settlements, antebellum homes, and the area's true southern historic districts.
This enchanting scene, with its glowing ball of fire tempered by an early morning mist, will certainly cast a spell on any would-be vacationers.
Copyright ©2010 Benjamin Prepelka
All Rights Reserved